Share a prayer through dementia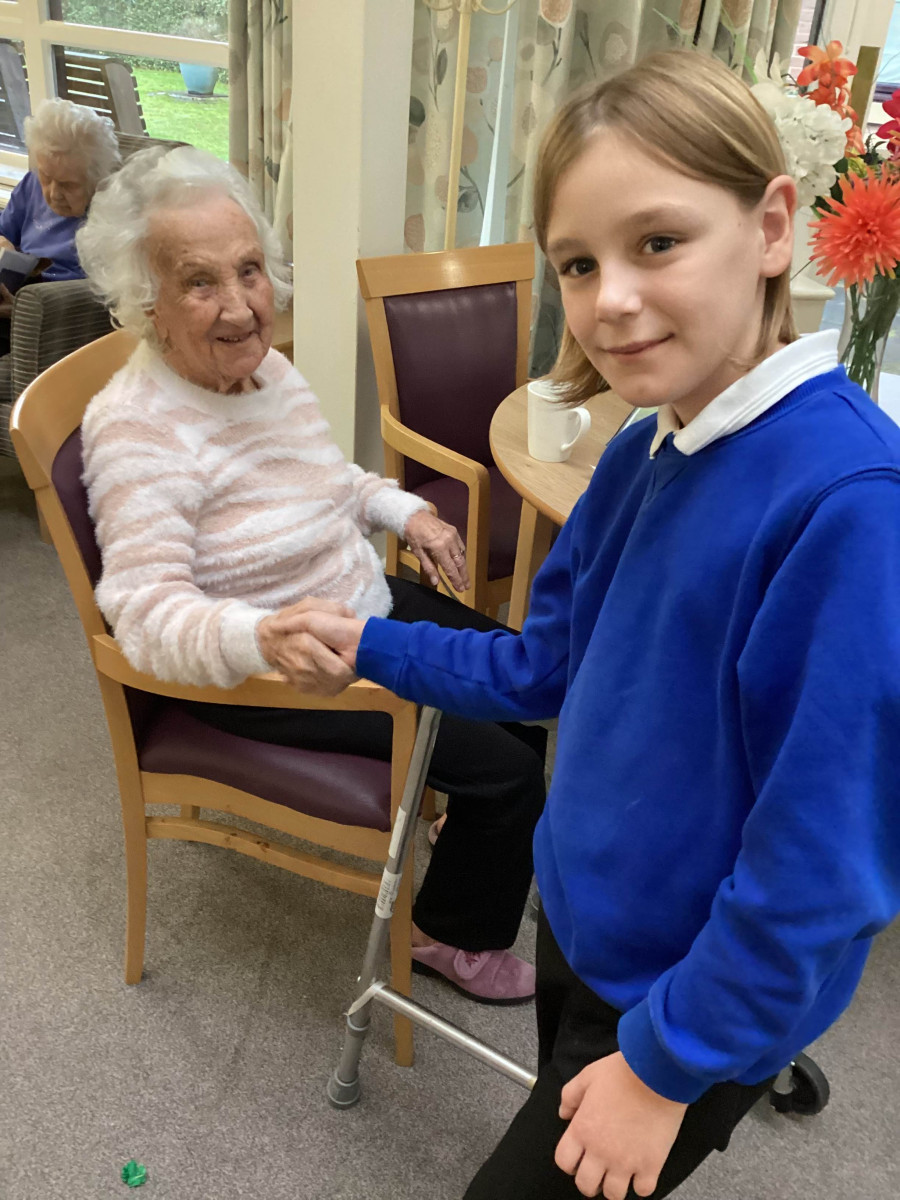 This prayer comes from Stoke: it was written by one of the children at St Paul's Church of England Primary School, Longton Stoke on Trent, which is taking steps to become a dementia-friendly school. Hayley Boult, is a class teacher and, her role as Worship Lead involves her in the school's commitment to develop and sustain its Christian distinctiveness. Mrs Boult has been been working with the children on dementia. What's been happening?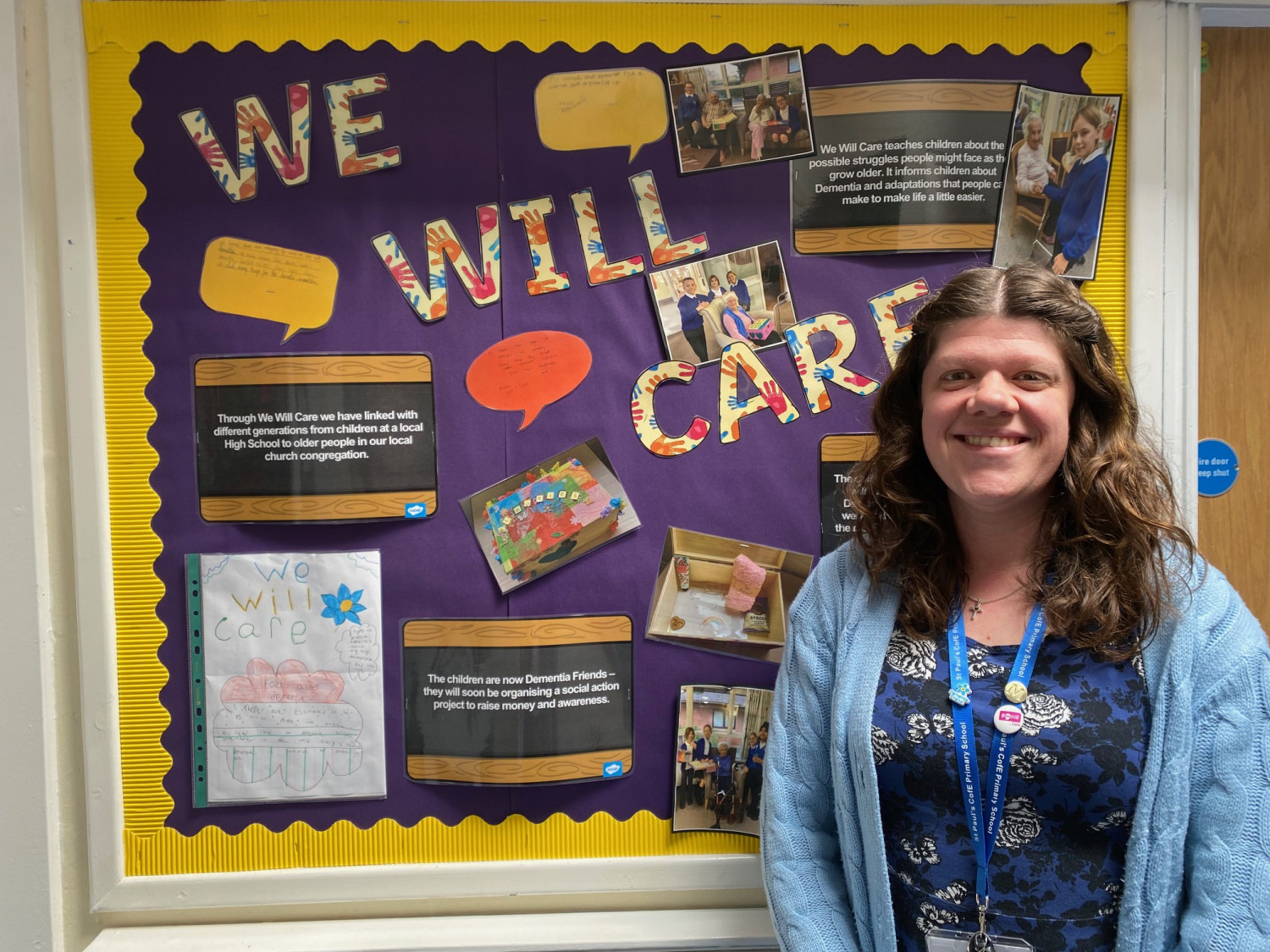 Mrs Boult explains: "St Paul's has taken action on dementia as part of the Ormiston Trust 'We will care' programme. We shared six PSHE sessions, raising awareness and sharing key messages, from knowing what dementia is and understanding how it might affect someone living with it, to realising that not everyone who gets old gets demetia. Now, the children just talk a lot about dementia."
And, as well as increasing their understanding, the children have taken action on dementia.
A Christmas craft session, for parents and children, was held as a fundraiser before Christmas – and £220 was raised and shared between a local dementia charity, Approach, and a national charity, Alzheimer's Society.
Then three children took the initative, asking if they could make lucky dip bags and raise more money for dementia charities. "They'd gone on thinking about what they could do: it was wonderful to see the children taking things further themselves", says Mrs Boult. The children made over 200 bags and sold them for £1 each, raising a further £220.
A penpal scheme has started up with St Paul's Church Longton, with crosss-generational links making connections and recognising the things they have in common.
The class also led whole-school worship focusing on dementia.
Ten children from St Paul's recently visited a local residential care home to give residents living with dementia memory boxes they had made and decorated. The memory boxes contained some things to connect with the senses, including biscuits, scented handcream and fluffy socks. The memory boxes also left space for personal items: families were encouraged to add things to the memory box which were particularly significant for each individual resident. Mrs Boult recognises the strong connections that were made:

"The children just utterly loved it. It made a massive impact. The residents were so touched that the children came with something for them. One woman said, 'You're like my family.' Another woman took a shine to one of our children and held his hand for a long time. When I asked him if he was OK with this, he replied, 'Yes – this is what she needs'."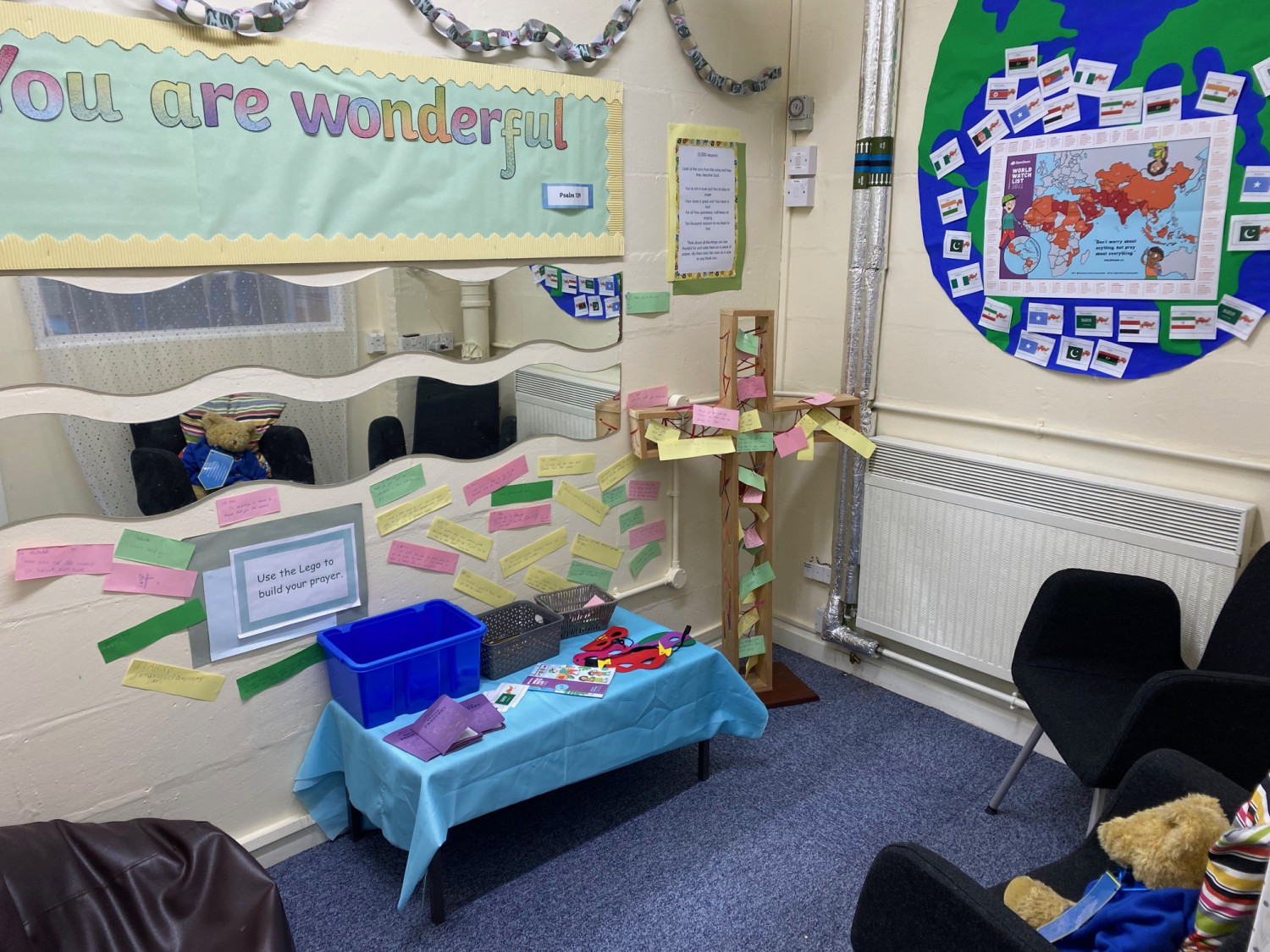 Mrs Boult's Year 5 class joined in our Diocese of Lichfield 'Share a prayer through dementia' initiative. "The dementia side was important; and the prayer side was really important too, talking about communication and connection with God and how we pray." Children used powerful images in their prayers: "may they always remember that though memories may fade like water you are a rock that stays strong and true forever". Mrs Boult says: "We've done so much to explore the spirituality of our children – we've come a long way in the last 18 months". There's even a new prayer room for the children to use at school – and children are praying prayers for many things, including dementia, there.
How can this focus on dementia at St Paul's encourage other schools to take next steps? All church schools and schools with a strong church connection across the Diocese of Lichfield are welcome to join our dementia-friendly schools network: find out more here. It's a three-stage process:
EMBARKING: Taking first actions on raising awareness and naming and facing dementia together in school – perhaps inspired by some of the actions that St Paul's School is taking.
EMBEDDING: Continuing to take action on dementia, year by year – with the actions included in the annually renewed "Dementia-Friendly School Certificate", signed by the Bishop of Lichfield, which allows the school to use the "Becoming dementia friendly school" logo. Mrs Boult confirms that St Paul's will be continuing with dementia awareness, pen pals and social action, because outward-looking community engagement is "part of who we are, threaded through".
EXTENDING: Developing wider community connections, both with the penpals scheme through the church and with the visit to the local residential care home. And the school's action on dementia is developing links with the local Council, including a plan for Mrs Boult to speak at a local dementia steering group. Mrs Boult is also wondering about the possibility of returning to the local residential care home to share carol singing at Christmas.
The dementia focus, both raising awareness and taking action, also led to increased focus on social action across the whole school. As a new initiative, charity day was held, with each class choosing a different charity to support and deciding on how they would raise money.
Here's the prayer through dementia, written by one of the children at St Paul's School:
Please help those with dementia,
watch over them and keep them safe.
Help the people who care for them,
giving them peace and patience.
Amen
Please do pray and share this prayer - and each of our Diocese of Lichfield three prayers for Dementia Actions Week. And look out for blogs sharing the story of the other prayers. Further prayers from the Share a Prayer through Dementia initiative are available to be used in Dementia Action Week or other times.
For more on our Diocese of Lichfield Dementia-Friendly Churches Network, contact Sarah Thorpe on sarah.thorpe@lichfield.anglican.org or 0798 224 8949.