Pilgrimage - journeying forward to the ancient future.
In the last twenty years or so has been a revival of interest in the idea and practice of pilgrimage. It is noticeable that spiritual or faith based tourism is one of the fastest growing segments in the travel industry. The number of pilgrims of all faiths and none walking the famous Camino to Santiago in Spain has increased from a mere 2,500 in 1985 to 216,000 in 2013. A lot of those walkers are young people.
In the UK new and revived pilgrimage routes, such as St Cuthbert's Way from Melrose to the Holy Island of Lindisfarne, have become established and are proving popular as well as benefiting the local economy. And there are a number that traverse or begin and end in our dicocese.
Pilgrimage for Wholeness and Healing in Body, Mind and Soul
A major motivation for medieval pilgrims was the idea of going on pilgrimage to seek healing in body, mind and soul. Pilgrimage organisers are recovering that emphasis in a contemporary way by encouraging modern pilgrims to walk with an intentionality about seeking to become healthy in body, mind and soul. Leaders of organised pilgrimages will often plan moments of reflection and meditation not only at churches and sacred sites along the routs, but at the start, end and other landmarks. And other customs have been revived: including carrying stones to Stone and walking the last miles from Farewell into Lichfield along Cross in Hand Lane, holding small palm wood crosses in our hands for pilgrims using the Two Saints Way. Then at Lichfield Cathedral their feet were washed in the pedilavium which was probably last used used by pilgrims in this way nearly 500 years ago.
Pilgrim Routes in the diocese
There are currently a few recognised routes in the diocese, with a another being designed in 2021/22.
The Two Saints Way
In the late Middle Ages a steady stream of pilgrims would have travelled along an old route between the cathedral cities of Chester and Lichfield. Some of those pilgrims would have been Irish since Chester was the main port for those in the northern half of the island, so the favoured route to Canterbury, or even to Rome or Jerusalem, would have included visiting the shrines of St Werburgh at Chester, St Wulfad in Stone and St Chad in Lichfield.
Now after an interval of almost 500 years, pilgrims are walking these routes again along the Two Saints Way which is a 92 mile pilgrimage route between the cathedral cities of Chester and Lichfield. It has been set up in such a way as to recover some of the aspects that were important in medieval pilgrimage but also to apply them in a contemporary fashion.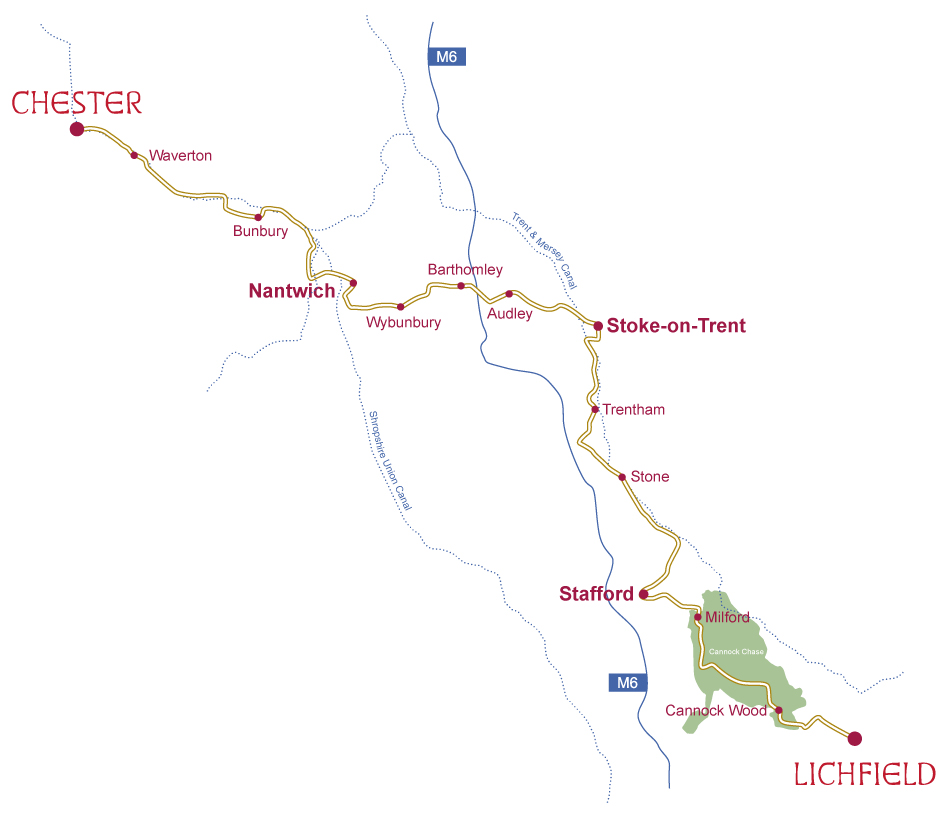 There is lots of information about this route on its website, www.twosaintsway.co.uk including its history and that of its revival, maps, pictures, advice and contact details. A pdf guidebook is availabls since the first printed edition sold out and a revised edition is being prepared.
St Winefride Pilgrim Trail
Retracing the journey from the resting place of St Winefride at Shrewsbury Abbey to Holywell, where her murder caused a miraculous well of pure water.
The revived St Winefride Pilgrimage Trail was launched by Shrewsbury Abbey in 2018 (map image from British Pilgrimage Trust). Bishop Sarah will lead a pilgrimage along the trail in April/May 2022 as part of our Season of Pilgrimage. A pack of resources are available ahead of that.
Other routes
The Abbesses Way in Shropshire takes in the magnificent Wenlock Edge and loptionally Ironbridge Gorge before ending in Shrewsbury.
The Peak Pilgrimage is 39 hilly waymarked miles between Ilam (home of our Dovedale House retreat centre) and Eyam in Derbyshire.
Season of Pilgrimage
St Chad's Day 2nd March 2022 marks 1,350 years since the saint's death in 672. To prepare for this event Bishop Michael is launching a 'Season of Pilgrimage', in which the people of Lichfield Diocese, together with our ecumenical partners and all with an interest in spiritual journeying, are invited to join with in several different ways. Latest details on the Season of Pilgrimage page below.
More articles and resources
Various resources and reports on this site about pilgrimages in recent years: