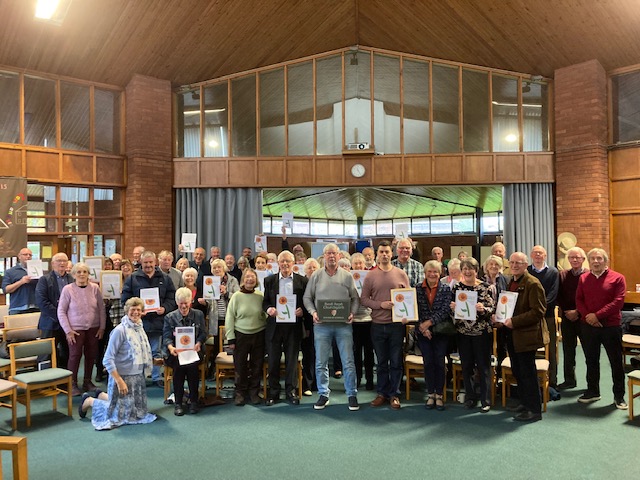 Fifty churchyard volunteers gathered in Doxey at the end of October for this year's Churchyard Award Scheme's celebration event. There were representatives from many of the 44 churches who participated in the scheme this year, as well as a team of 13 volunteer judges.
Feedback from the judges highlighted many achievements and thoughtful planning evident in the management of the churchyards and gardens. Great efforts are being made to ensure all are welcome, there is space for reflection, and information is displayed which informs and enriches the experience of visitors. Ideas were shared and suggestions made for the coming year. Canon David Primrose talked of the significance of churchyards as places where people can encounter God, and thanked volunteers for all their dedication and hard work.
Churchyards and church gardens received bronze, silver and gold awards, with two-thirds also receiving a Nature-friendly Certificate. It was difficult to choose the best in each field, however this year, the best churchyard award went to St Michael & All Angels, Colwich, with particular mention of the wealth of information provided to visitors whilst the best church garden was St Thomas, Wednesfield with its numerous nature-friendly initiatives.
All churches in the diocese are invited to participate, for which there is no charge. The 2023 application form is now available. Caring for God's Acre has specialist advice available – for free membership contact Anna Wilde.