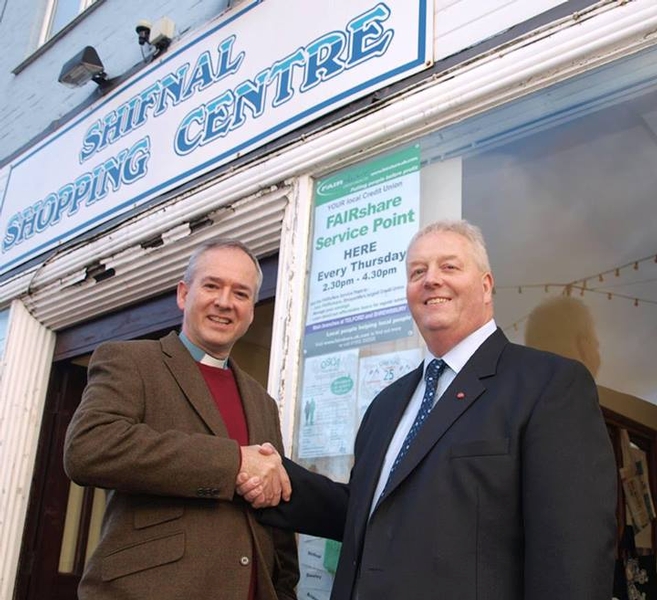 Shifnal is now served by a new FAIRshare Service Point. Supported by Churches Together in Shifnal District and based at the OASIS Christian Shop, the FAIRshare Service Point visits Shifnal every Thursday afternoon from 2.30pm-4.30pm.
FAIRshare Credit Union is a not-for-profit community bank for anyone who lives or works in Shropshire, offering a home for savings and the option to access loans.
The Revd Prebendary Chris Thorpe said We were inspired by Archbishop Justins call to put Wonga and the other pay day loan companies out of business! When times are so tough, people need a way of saving and low cost borrowing to build their way out of debt. All the churches are pleased to back this initiative for Shifnal.
The Archbishop of Canterbury, Justin Welby, led the call for action to promote Credit Unions last October when he said Lets begin to make a difference to how families can finance themselves in this country join and support a credit union.
FAIRshare, which has branches in Telford and Shrewsbury, now visits eight towns each week, allowing more people to access their services across the county. John Harrower, FAIRshares General Manager, said With the increase in high cost credit providers such as Pay Day Loan companies and weekly payment stores, credit unions like FAIRshare offer people access to low cost loans that help them afford the things they need now, without getting into debt. We are pleased to be adding Shifnal to the towns we visit throughout Shropshire and look forward to working within the community.
FAIRshare is Shropshires largest Credit Union with main branches at Telford & Shrewsbury, and weekly FAIRshare Service Points in Bridgnorth, Craven Arms, Ludlow, Market Drayton, Oswestry, Shifnal, Wem & Whitchurch.