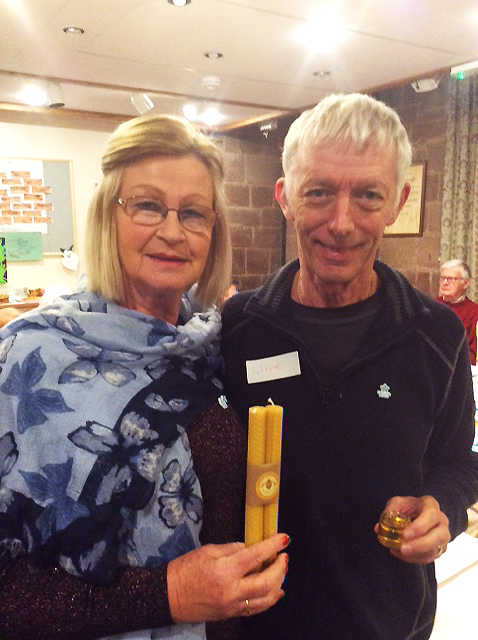 A good way to make your church's welcome more dementia-friendly is to run a session for Welcomers. Why not use the format which has been used effectively at St Mary's Church, Market Drayton?
Church audit by Clive Rogers
"The audit's the key", according to Avril Innocent and Val Creasey, Dementia Coordinators at St Mary's. The audit involved Clive and Barbara Rogers coming to St Mary's and looking round the building: Clive, a former Flight Lieutenant at RAF Shawbury, was diagnosed with young onset dementia in 2017 - Alzheimer's disease, frontotemporal dementia and vascular dementia.
From his lived experience of dementia, Clive looked round the physical environment of the church, explaining what was helpful and what he'd like to change. There was so much to learn from Clive's audit. How could this understanding best be shared with key people at church?
By invitation – for PCC and Welcomers
Avril, Val and Catherine McBride, the vicar at St Mary's, decided to invite both church Welcomers and PCC members to a dementia-friendly church evening session. The session was held in St Mary's Church, with wine and cheese included; and the aim was to share Clive's perspective on the church building and to focus on communication through advancing dementia.
Session Introduction
The session started with a 3-minute overview of early, middle and late stages of dementia. Dementia-friendly church is all about keeping in step with people as patterns change through dementia. When he visited St Mary's, Clive Rogers was the middle stages of dementia - still driving but he'd had to give up his beekeeping.
The introduction then went on to answer the question, 'Why are this particular group invited to this session?' Welcomers were invited because they are so important, colouring people's first impressions of church. A dementia-friendly church needs to be welcoming, both physically and emotionally. PCC members were invited because they hold the purse strings: it's important that they have extra knowledge and understanding so that they can make appropriate decisions, if spending is needed.
First section – Environment
For the first part of the session, everyone was given a piece of paper listing various aspects of the church physical environment – with blank space to make notes beside each heading:
Lighting
Floors
Doors
Signage
Furniture and fittings
Reading / service material
For 15 minutes, people were invited to look around church in twos and threes, as if they had dementia. What's good? What's bad? What might you want to change? Then there was a discussion of responses, for about 25 minutes.
For example, people thought that the church lighting was good – although Clive Rogers had noticed that the servery area was too dark. People commented, after this section, "We've never really looked at our church in this way before".
Alzheimer's Society's Environmental Checklist might be a useful tool to share.
Second section - Communication
The second part of the session focused on communication. This began with sharing the three rules from the book "Contented Dementia" by Oliver James:
Don't contradict
Don't ask questions
Learn from the expert
Then people worked in two and threes for 10 minutes to decide what they might say or do at various times before, during and after a church service: people were told that "Every answer is a right answer – but all answers need to comply with the rule 'Don't ask questions'".
When welcoming people on arrival
Giving them a service book
If necessary, showing people to a seat
Before the service
During the service
Over coffee and tea
Any others
Then ideas were shared. For example, on arrival it might be any of the following: "Pleased to meet you. I'm Val, one of the Welcomers."; or "Welcome to St Mary's Church"; or simply a smile! And over tea and coffee, avoiding questions, by saying: "It's time for tea!"; or "I think…"; or "Some people…" or "I remember when…"
Dementia UK's Tips for better communication might be helpful to share.
Next steps in your church?
Perhaps you've already done a physical audit of the building with someone living with dementia. If not, you might know someone who would be willing to do this with you – or ask Sarah Thorpe if she can help you find someone who could help with this. After an audit, why not put on a session for Welcomers and the PCC, along the lines of the St Mary's session, to share the understanding with key people in your church?
Becoming more welcoming, friendly churches
For us to be welcoming, friendly churches, it's helpful to recognise the different ways we can respond, adapting to meet the different people we welcome to church. Maya Angelou, activist and writer, reminds us, "People will forget what you said, people will forget what you did, but people will never forget how you made them feel".