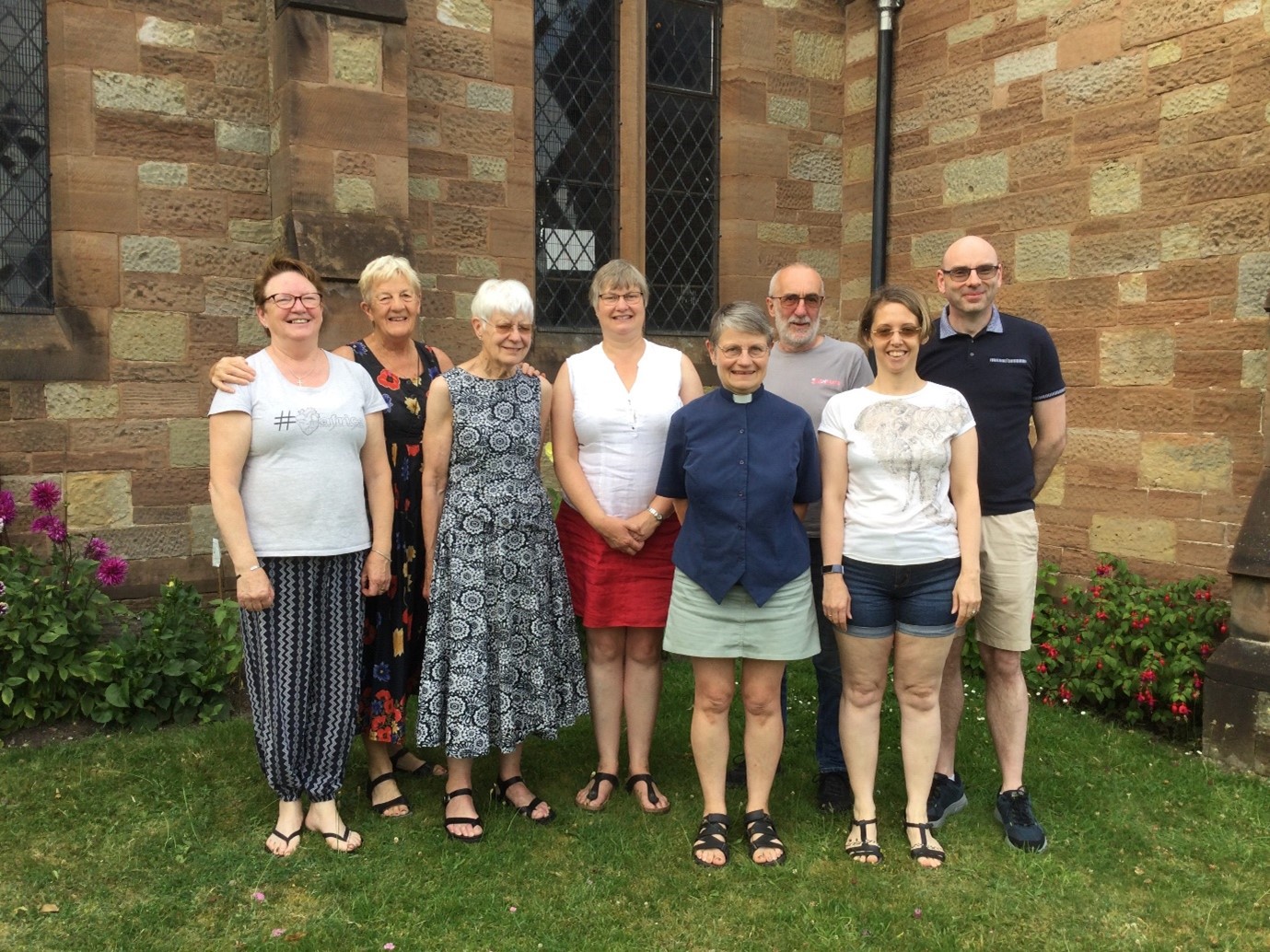 Photo left to right: Val (St Mary's Wheaton Aston), Sheila (St Anne's Chasetown), Sue (All Saints Bromsgrove), Roberta (St Michael and All Angels Tettenhall Regis), Lesley & John (St Bartholomew's Minshull), Clare & Martin (St Thomas' Huntington.
On Saturday 23 July a team of people from churches in our diocese and other parts of the Midlands will be heading off to South Africa and Eswatini with the charity 'Hands at Work, Africa'.
#1- 21 July
We will be building new relationships with the communities we are visiting and the care workers who serve the most vulnerable children in Jesus' name.
There will be a mixture of activities taking place at the Care Points that we will get involved in. We have been asked to prepare some words of encouragement for care workers, and to think through any games, activities and bible stories that might be good to do with children of a variety of ages. We will also be making Holy Home Visits which is when the care workers visit the primary care givers and children in their own homes. During these visits the care workers get to understand exactly what the situation is within the home and pray for the care givers (usually a grandmother) and children. Care workers repeatedly say what an encouragement it is to have the teams visiting them. They do save up practical tasks for visiting teams that they do not have time to do on a normal day, but what they really appreciate is people who will listen and then tell their story back home.
We would very much appreciate your prayers for a safe journey to Africa, our time out there and then home again
Further updates about our trip will appear on this page over the coming days (internet connection permitting!)
Clare Beavon
#2 - 24 July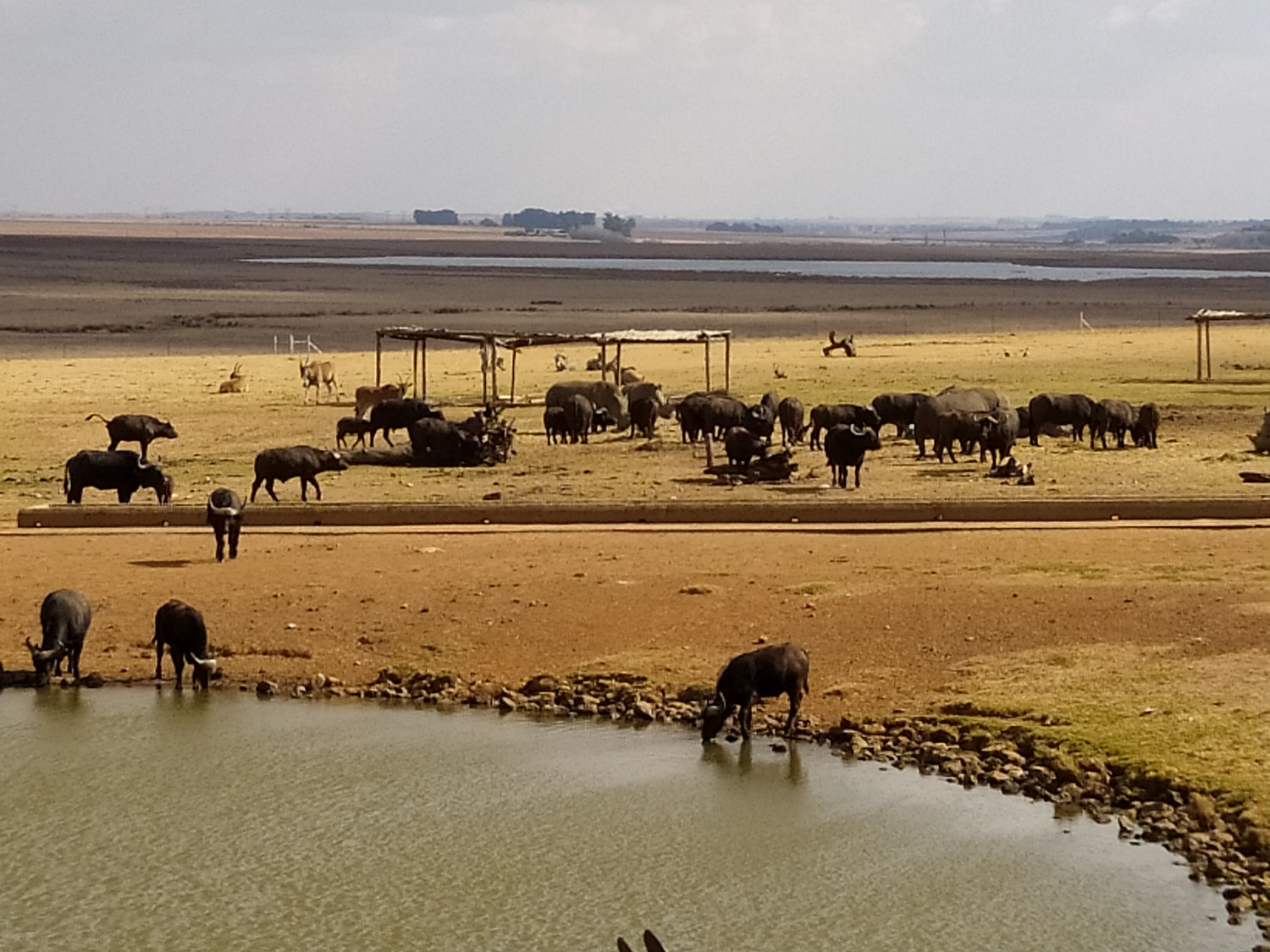 The team met up in Wolverhampton on Saturday 23 July and our journey started off with the minibus taking us to the airport. The flight left on time and we were all treated well by the cabin crew. Our first challenge came when we arrived in Johannesburg when the luggage for a member of the team didn't arrive and we later found out it was still in London! Arrangements are being made for the luggage to be sent to us in South Africa, we are just thankful it has not been lost forever.
We were picked up from the airport for a 4-5 hour drive to Hands at Work hub in White River. We stopped off at the local services which is very different to those back home. Have a look at the picture to see what we saw 😃
We safely arrived at the hub to a warm welcome from our hosts and others from the Hands at Work team. We look forward to getting to know everyone better over the next couple of weeks.
Feeling tired now after a long day's travelling, getting some rest as it's an early start for the men as they meet up for a time of prayer at 7am. We will be heading off to Eswatini tomorrow and look forward to sharing more with you soon.
#3 - 25 July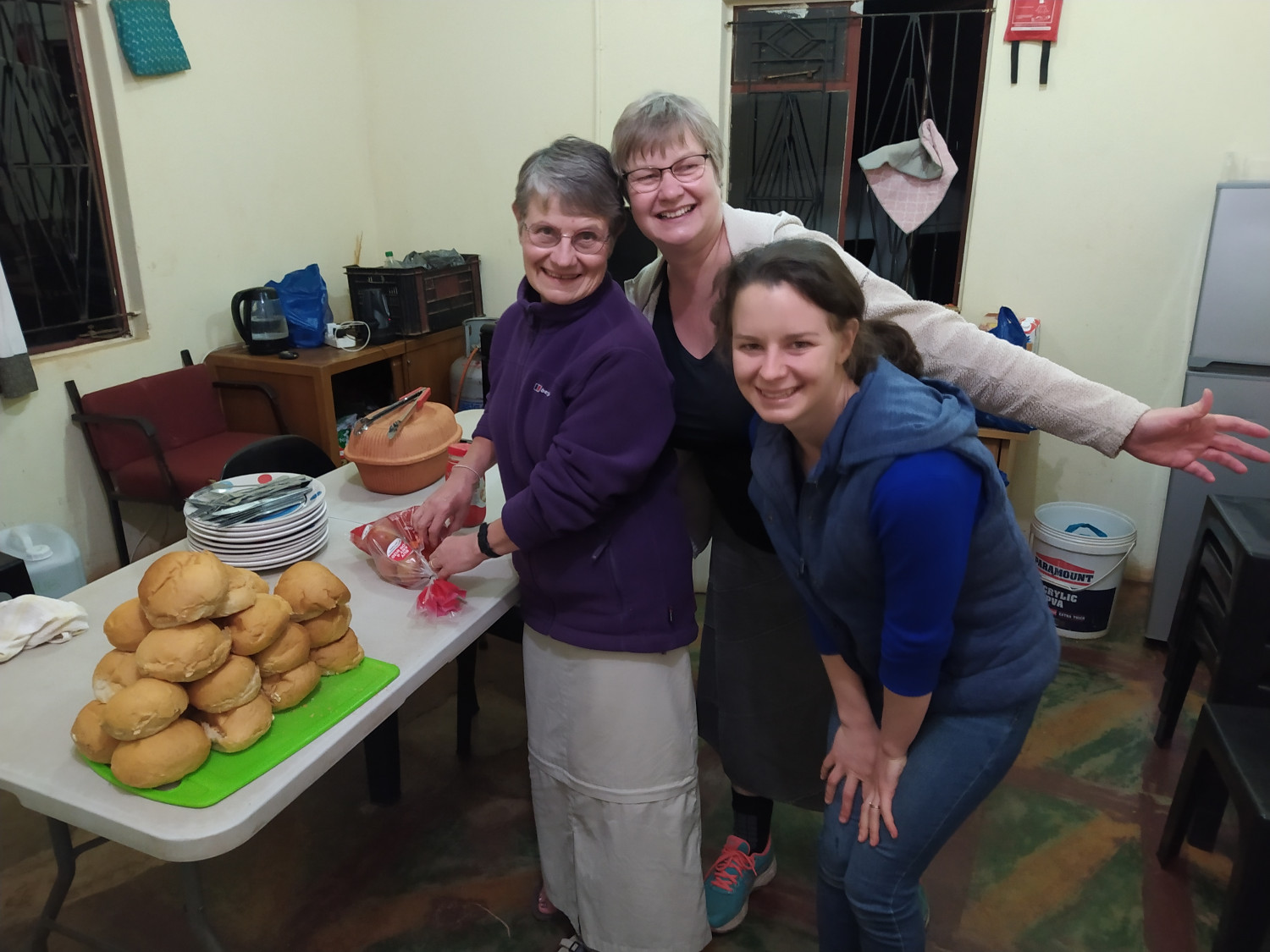 After men's prayer we met with the Hands at Work family at the hub for worship, prayer and to share any news together.
Our team were prayed for, for our journey to Eswatini and all that lies ahead whilst we are there.
We then met with our hosts for orientation, we introduced ourselves and talked about our hopes and expectations for our time in Africa.
We got our permits and were then able to travel to Eswatini. It took about 4-5 hours to get to our home for the next 4 nights. When we arrived it was pitch black and no-one was more relieved to get here than our driver 😃
We shared a lovely evening meal before turning in for the night.
#4 - 26 July
The next part of our story 😃
After a hearty meal of porridge our team left Shuka House at 7.45 am travelling a short but very bumpy ride to the Service Centre. There we had a very warm welcome from the staff and joined with them for introductions, worship and a request for prayer for the challenges at the Messengeni Care Point.
After the staff had completed their administration work we travelled to the Care Point itself and shared with the care workers a truly uplifting time of worship with African dance.Each person introduced themselves and we prayed for any requests from the care workers.
We were then split into 3 groups: Sue and Val remaining to help prepare beetroot for a meal at the Care Point. The other 6 members of the team went off in two groups, along with a care worker, for Holy Home visits.
Sheila's team visited the home of a lady whose baby, at 3 months of age, had been seriously ill. Hands @ Work paid for the baby's four day care in hospital. The roof of the house in which they live, with the baby's grandmother, leaks and they asked for prayer that the roof could be repaired.
When the children arrived from school Sue and Val helped dish up a meal for them: roughly 70 children.

#5 - 27 July
Today we visited the isolated Care Point in Bhandeni, high in the hills on the Mozambique border, accessed by a very rough track which required the use of 4x4s. It took us 50 minutes to get there from the nearest small town. The local children, right from primary age, walk to town everyday for school. It takes them 2 hours to get there. We met 14 Care Workers from Bhandeni. Their persistence and dedication and trust in God are an inspiration. We met some of the younger children who enjoyed chasing bubbles that we had brought with us.

The group divided into 2, for a Holy Home visit each, where we met the carers of some of the children at the Care Point. One child hoped there would be enough money to pay school fees again next year. He has missed this year. A grandmother cared for her grandchildren and tried to ensure contact from their parents.
We left before most children arrived for their meal, so that we didn't have to travel in the dark. We passed the children climbing the hill as they headed back home to get a meal before dark.
Lesley and John
#6 - 28 July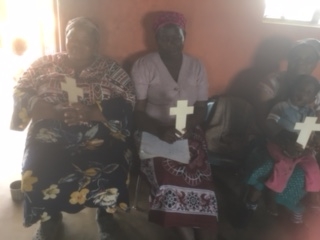 Today we returned to Msengeni A care point in order to spend time with the caregivers and thank them for all that they do for the children every day even though they have very full and busy lives with multiple responsibilities. We were excited to return having been given some basic Siswati phrases to practice.
Again we were made very welcome and enjoyed an uplifting time of worship. After checking in and hearing from everyone, we listened to prayer requests.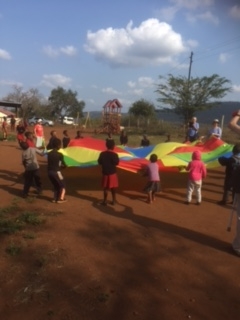 After a time of collective prayer, we then turned our focus onto the appreciation activity, which on this occasion was decorating wooden crosses with jewel like stickers and felt tip pens. The carers enjoyed this activity, singing glory to God as they did so. A beautiful and colourful array of unique and individual styles emerged, each reflecting the creativity of each person.
Care was taken to send the activity materials and other small gifts (colouring books, pencils, sharpener and wash bags with toiletries) - something for body, mind and soul.
Later on we played with the children with the community parachute game.
Great fun was had by adults and children !!!
#7 - 31 July
On Friday it was time to say goodbye to the Eswatini Service Centre team. We shared words of encouragement and worshipped together before saying goodbye and heading back to The Hub, near White River in South Africa.
On Saturday we were blessed by having some much needed downtime and headed off to a nearby national park to check out the local wildlife.
On Sunday we had arranged to visit the local African Anglican church, St Francis in Masoyi. The service was a mix of Zulu and English. We received a warm welcome and our two clergy members of the team Lesley and Sue helped to lead the service. St Francis' have an active Mother's Union and were thrilled to hear that Sue is a branch leader. Before we left Father Aaron prayed for each of us.
We then spent the afternoon visiting the local botanical gardens and relaxing at the hub recharging our batteries, ready for a busy week ahead when we visit the local communities at the care points in Zwelisha and Sommerset.

#8 - 1 August
Martin, a team member and our very valued driver, and John another very valued member of our team, attended the men's prayer meeting at 7 am. This was followed at 8 am by the Hands at Work weekly worship.
After a time of scripture and worship George Snyman's birthday was celebrated with singing and hugs! Other anniversaries were celebrated with prayer including the dedication of a newly born baby.
People going out from Hands into other communities were prayed over. Videos were shown of other community teams as well as Hands and representatives of each team gave prayer points. The whole meeting prayed for these.
At 9.30 the team met with their host team to talk about Zwelisha where the team were to visit over three days over the coming week. We set off with Virginia and Eunice, the Service team for the Hazyview area. We arrived at Zwelisha at approximately 11 am and Sheila and Val helped finish preparing the vegetables. We joined in a time of worship and sharing names and prayer requests. We prayed and Lesley gave encouragement to the care workers from Colossians Chapter 2.
We then split up into teams for Holy Home visits. Martin and Clare remained at the Care Point (which provides food for the children) to help out.
One team, Lesley, John and Sheila, along with Virginia, visited the home of a gogo (grandma). Her son was away working and her daughter-in-law had an alcoholic problem. This meant that the gogo had the responsibility of caring for the children. There was a time of sharing and prayer for the family.
The other team, Val, Sue and Roberta, visited a single mum with Eunice. She had a small local business of selling vegetables. If she was unable to sell the vegetables she would not be able to provide food for her family. The family had escaped from Mozambique and so had no identity papers and consequently were unable to receive a grant from the government.
On returning the teams played with the children (football being particularly popular with the boys: some budding footballers there!) Some of the team helped serve up the meal of pap, potato and soya stew, and a mixture of onions, carrots and cabbage. The team also enjoyed this meal after all the youngsters had been fed.

#9 - 2 August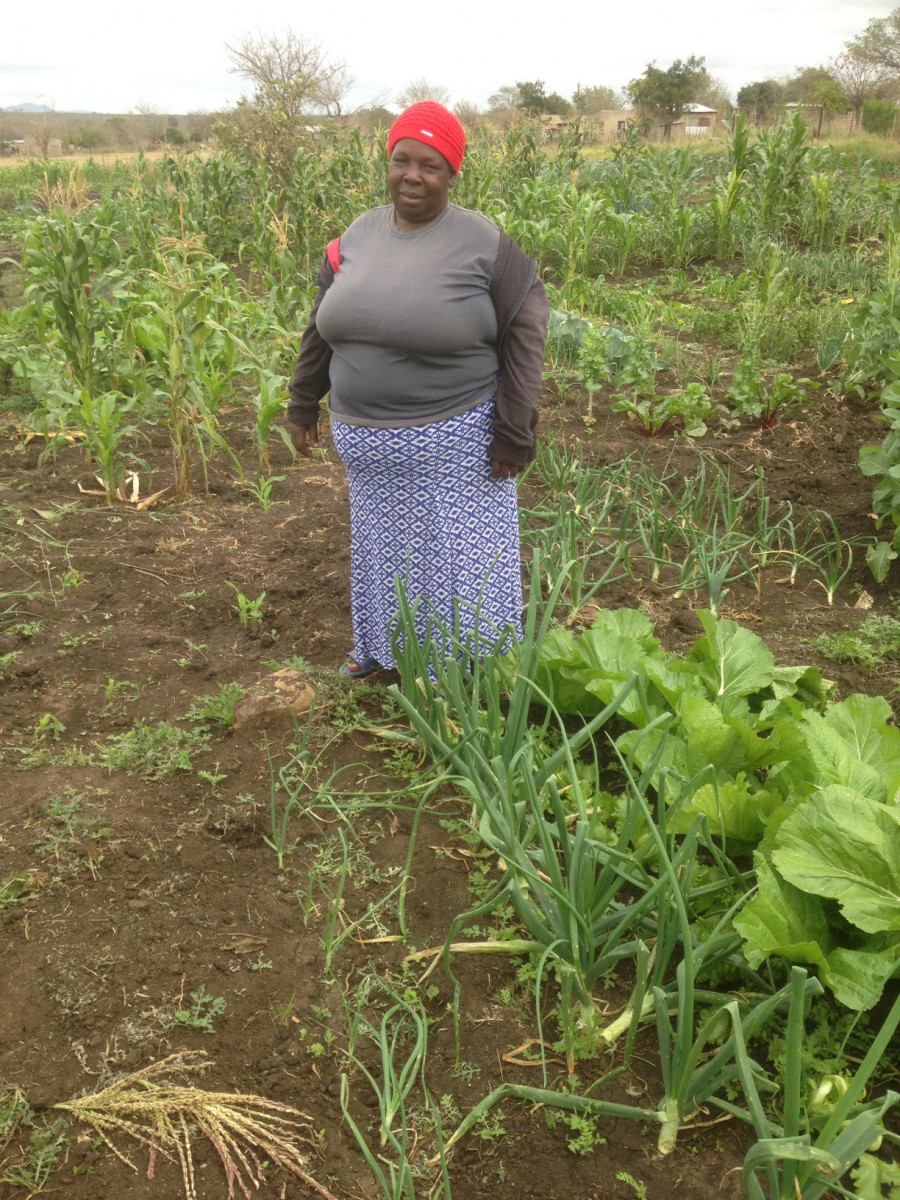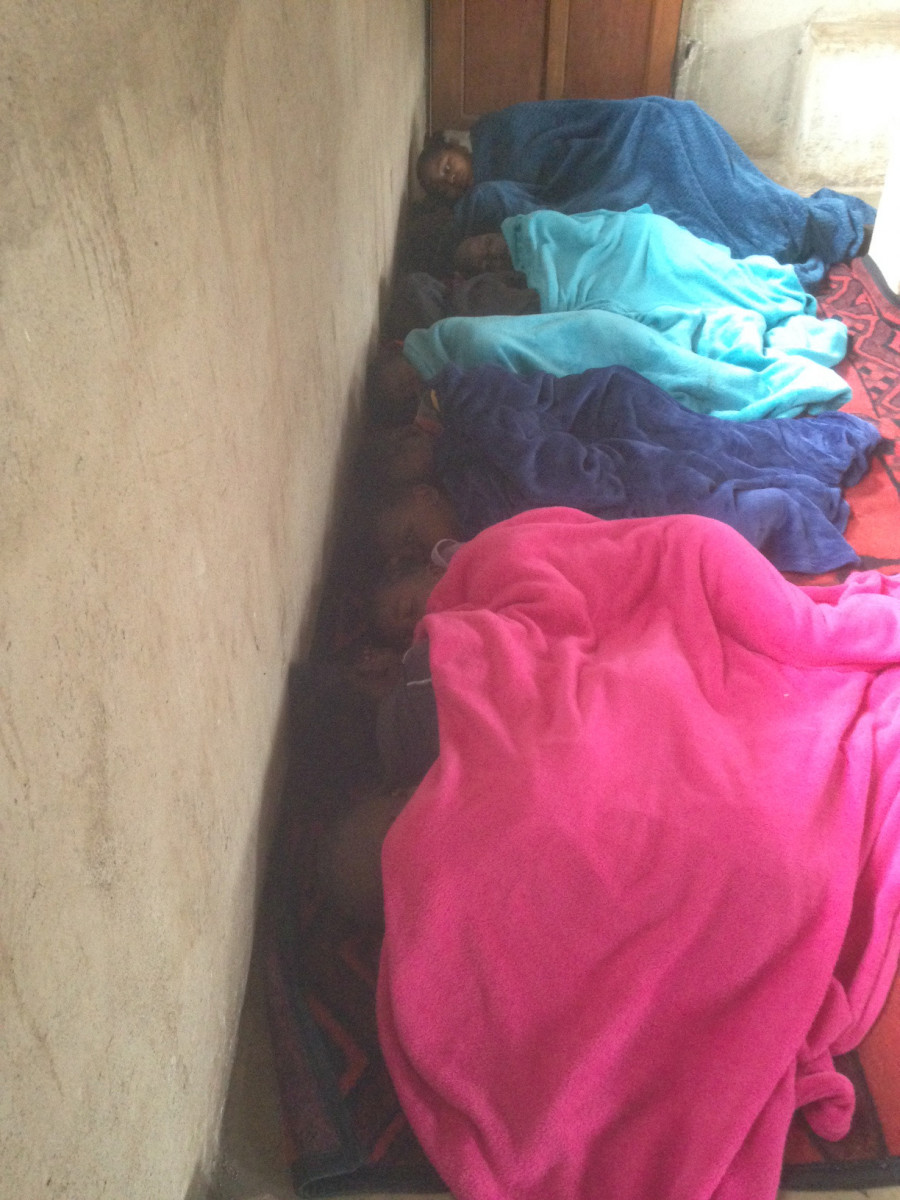 We spent the day in Sommerset. (Yes, I have spelt it correctly.) The Care Point in Sommerset cares for 100 children with 14 care workers. They prepare a meal each day for the end of school as well as running the new under 5s group each weekday. You can see a picture of the children taking their midday nap. The care workers visit the families of all the children regularly.
Members of our team made two Holy Home visits with care workers and volunteers, encountering families struggling with extreme poverty and the consequences of having fled their own war torn country and having no id in South Africa.
For me, one of the highlights of today was seeing the garden that the local pastor and care workers have planted and tended. It is well stocked with cabbages, maize, beetroot, onions, chard, mustard greens, peppers, garlic, carrots, pumpkins and squash. These are all used to prepare the meal for the children. A separate garden is tended by primary care givers (grandparents, parents, aunt) for their families.
#10 - 3 August
Since I last sent a blog, I have been trying to speak Siswati, and found out yesterday that I needed Shangani! There are 11 languages spoken in South Africa, and I am reminded of something the monk Thomas Merton wrote in his journal. Namely, that each new DAY comes with a whole new language! Certainly living in a community, even if we speak the same language, miscommunication and misunderstandings are common.
So, now nearing the end of my time here, with the love and support of my new friends, both English and South African, what does God want me to do today, on a return visit to Zwelisha care point?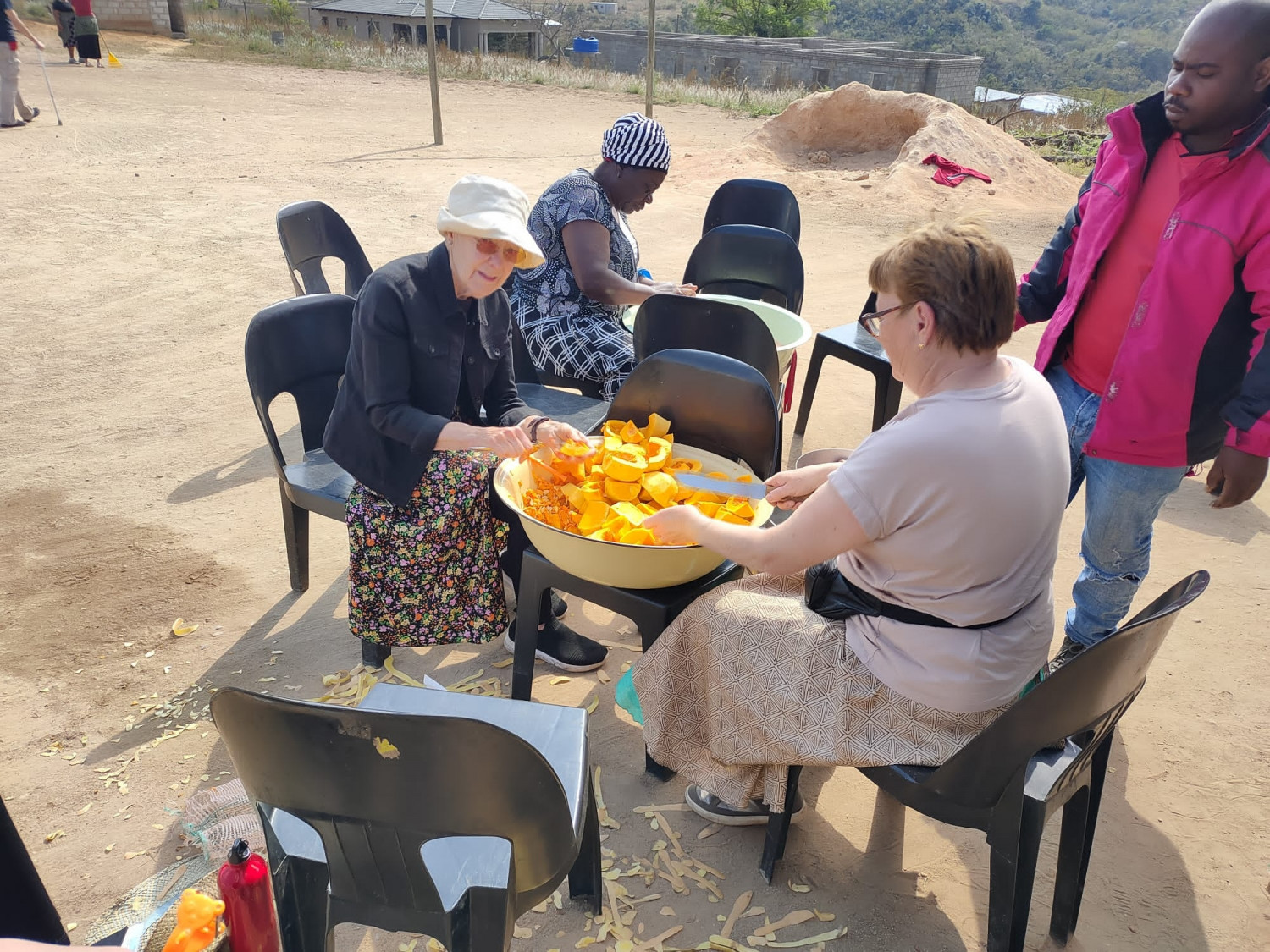 In order to help me discern God's vision for the day, I imagine Jesus being there with me. I imagine his quiet, gentle yet authoritative presence waiting on the situation. Patient, open and willing to be vulnerable.
Once again, I am encouraged by his words in Mark 5:36 "do not fear, only believe". I believe he will be with each of us today. I believe he will show each of us what he wants us to do. There will be highs and lows for each of us but he will give all members of the team the strength we need to support and encourage the amazing Care Workers. Our reward will be joy and celebration of each other.
Being in such a community of love and service to others will continue to provide many blessings for the children, not only in the food they enjoy, but the fellowship as well.
Roberta
#11 - 4 August
The day started out at 8:00 with a time of silence and reflection in the chapel. We heard a passage of scripture from Exodus chapter 3. We then went off to find our own quiet place to reflect on this passage and to listen to God. This time ended with the sharing of communion.
At 9:15 the team set out for our final visit to one of the care points and our third time visiting Zwelisha. On arrival we were met by nine smiling faces as the under-5's came to greet us. We joined in with a fun exercise session and then sat down to listen to the creation story. As the children settled down and slept we gathered together with the careworkers to sing praises to our Lord, to pray over specific prayer requests and to listen to words of encouragement. Sue provided the words of encouragement today based around Jude Ch 1 vs 1-3.
Following the words of encouragement we split into three teams. Lesley and John remained at the care point to help prepare today's meal of pap, beetroot and beans. The rest of the team set off for our final Holy Home visits. I headed out with Clare and Sue, Virginia from the Service Centre team and one of the careworkers. Unfortunately the family we were visiting were not in, however this gave Virginia the opportunity to share her own testimony and what a blessing it was to hear it. We look forward to sharing Virginia's testimony in more detail when we are back in the UK. It is a wonderful example of how one young life was helped through the love and support of Hands at Work and the care workers.
On returning to the care point the younger school children had now arrived and we joined in with playtime. I did my best to show off my football skills but the lads were just too quick and skillful for me! Sheila was with the older girls making loom band bracelets.
Each care point has a set weekly menu though this does vary depending on the care point. On today's menu was chickens feet, however the delivery came too late for today's lunch. When they did arrive half went into the freezer which was located in the storage container and the other half we were asked to deliver to another local carepoint called Mluti.
On returning from Mluti the children were gathered for worship and prayers before having their lunch. The team helped to serve lunch. After lunch we played with the children for a short period of time before we had to say our goodbyes. It felt sad to be leaving knowing it was going to be our last community visit.
We then headed back to the Hub for our evening meal. Instead of our usual evening debrief the St Andrews team put on a barn dance for everyone at the Hub. Much fun was had all around.
Martin

#12 - 5 August
The day started with morning word and worship. We joined all those from Hands at Work at the hub and worshipped together. During this time of worship, the team fed back on our experiences and what we have learnt from our time in both South Africa and Eswatini.
‌We then had a de-brief with our hosts, where we each talked about our experience, what we have learnt/will take back home with us and how we will build on this and share the stories back home. We then explored the wider area of the hub and later in the day were able to visit Caster Bridge and go out for an evening meal, with our hosts, on our last night in South Africa.
#13 - 6-7 August
Today is the day we leave South Africa, the team had mixed feelings about this. We were sad to be going but also keen to see our families and friends and to share all we have learnt from our visit.
Once we had loaded the minibus with our bags, we started to say our goodbyes, there were lots of hugs involved. Our team were prayed for before we left and we then made our way to the airport. The flight went well and we arrived back at the original meeting point in Wolverhampton on Sunday morning at approximately 9:30am. We then said our goodbyes to the rest of the team and made our way home.
We'd like to particularly thank Lesley and John, our team leaders for helping us prepare for this visit and for their care and support as we each experienced highs and lows throughout the 2 weeks. There was lots of work done in the background and we all wanted to take the time to say thank you. As a team we are keen to share about our experiences and what we have learnt as well as stories shared with us whilst we were out there. If you'd like to know when these talks will be taking place or if you'd like us to come and talk to your church/deanery synod we'd be pleased to do so, just contact Clare and Lesley (West Midlands Regional co-ordinator) on clare.beavon@uk.handsatwork.org. There are also national and regional mailing lists for Hands at Work – we can arrange to have your name and email address added to these if you would like regular information.