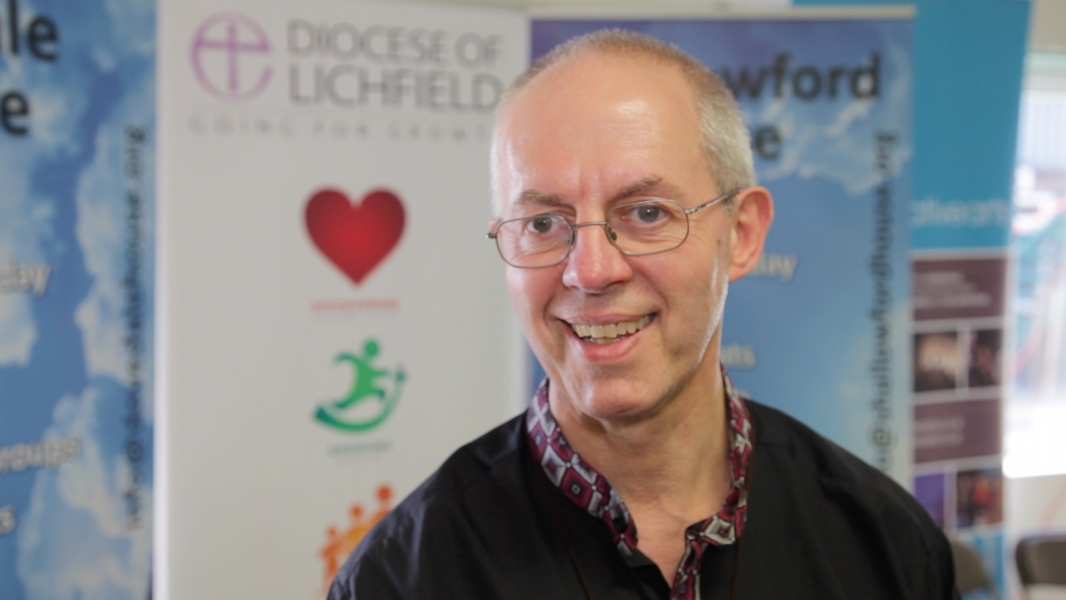 The Right Revd Justin Welby was in Stafford this week, speaking to a barn full of 4,500 teenagers at the Staffordshire showground.
The occasion was Soul Survivor, an annual event that attracts young people from churches throughout the Midlands and north of England.
Archbishop Justin spent time hanging out with various groups around the site in the tented villages where they camp for the duration of the event. On Tuesday afternoon he answered questions on a wide variety of topics sent in by the young people - from a typical 'day in the life' of an archbishop, why he became a Christian, and what facial expression he wore when he found out he was to be the next archbishop, to losing his baby daughter in a car crash, and having his own life threatened when trying to broker peace in African wars.
His frankness and honesty with the teenagers was appreciated as he shared some of the real difficulties and challenges he has dealt with in his past roles and now as archbishop as the video below shows:
"There are no quick fixes in making disciples. We need to use every tool in the toolkit, and many of the things that this Diocese is doing represent those tools. In the end, discipleship is a matter of loving God with all our heart, strength, soul and mind, loving our neighbour as ourselves, and going deeper in the study of the scriptures and prayer together."
Soul Survivor grew out of a youth-focused church in Watford and now runs three separate weeks of worship, teaching, games and entertainment in Stafford, Somerset and Scotland each summer.
Main photo: In the exhibition space, Archbishop Justin met some of the team from Dovedale House, a diocesan retreat centre particularly suited to youth and outward-bound groups.
Lower photos: a warm welcome among the young people from St John's church in Stafford, the parish in which the Staffordshire County Showground is located; Archbishop answering questions from the gathered flock squeezed in one of the agricultural barns at the showground.
There are more photos from Archbishop Justin's visit to Soul Survivor here on his website.