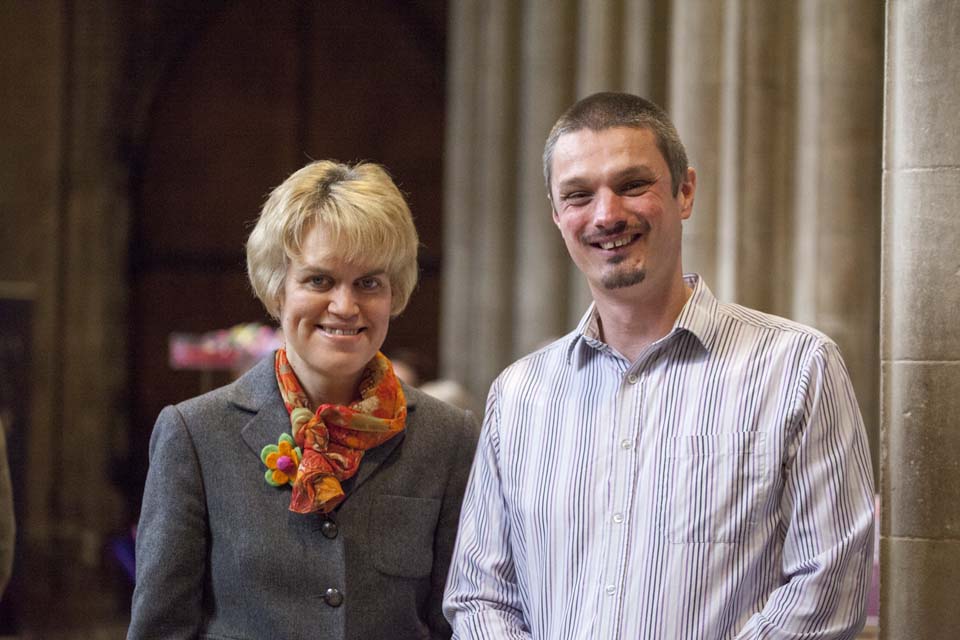 A new Places of Welcome enabler for Staffordshire and Stoke-on-Trent has been appointed to help community groups open their doors to local people.
The Places of Welcome initiative is spreading across the West Midlands and other parts of the country, as of this week, there are now 200 venues taking part.
Every week people are free to belong, connect and contribute at Places of Welcome - which include many churches. The growing network of hospitality is run by local groups who want to make sure that everyone in their area has a place to go for a friendly face, a cup of tea and a conversation.
Helen Titterton (above with Transforming Communities Together's Development Worker James Henderson) has taken on the part-time enabler role to help spread Places of Welcome further across Staffordshire and Stoke-on-Trent. Helen, who lives in Lichfield, was until recently the Strategic Director for Community, Housing and Health for Lichfield District Council where she led on projects and partnerships with the community and voluntary sector.
She said: Places of Welcome is about opening the door for people to meet others in their community and is great at including those who may feel isolated, including the elderly. Im really looking forward to getting out and meeting and supporting current volunteers as well as helping churches and other community groups to set up Places of Welcome in their local area.
Places of Welcome are sponsored and supported by Transforming Communities Together, a joint venture between the Church Urban Fund and the Diocese of Lichfield. Some of the funding for the new post was raised through an innovative crowd-funding campaign.
Transforming Communities Together Chair, the Rev Dr David Primrose, said: Were delighted to have Places of Welcome now at a growing number of places across Lichfield Diocese and want to continue this growth across Staffordshire and Stoke-on-Trent through Helens appointment. Its fantastic to have mosques, libraries and community centres, as well as churches involved, as we work towards our vision of every community having a Place of Welcome.
Places of Welcome is a grassroots movement that began in Birmingham. Its five values ensure that each venue is open at the same time and place for at least a few hours every week and is welcoming to anyone wanting to attend.