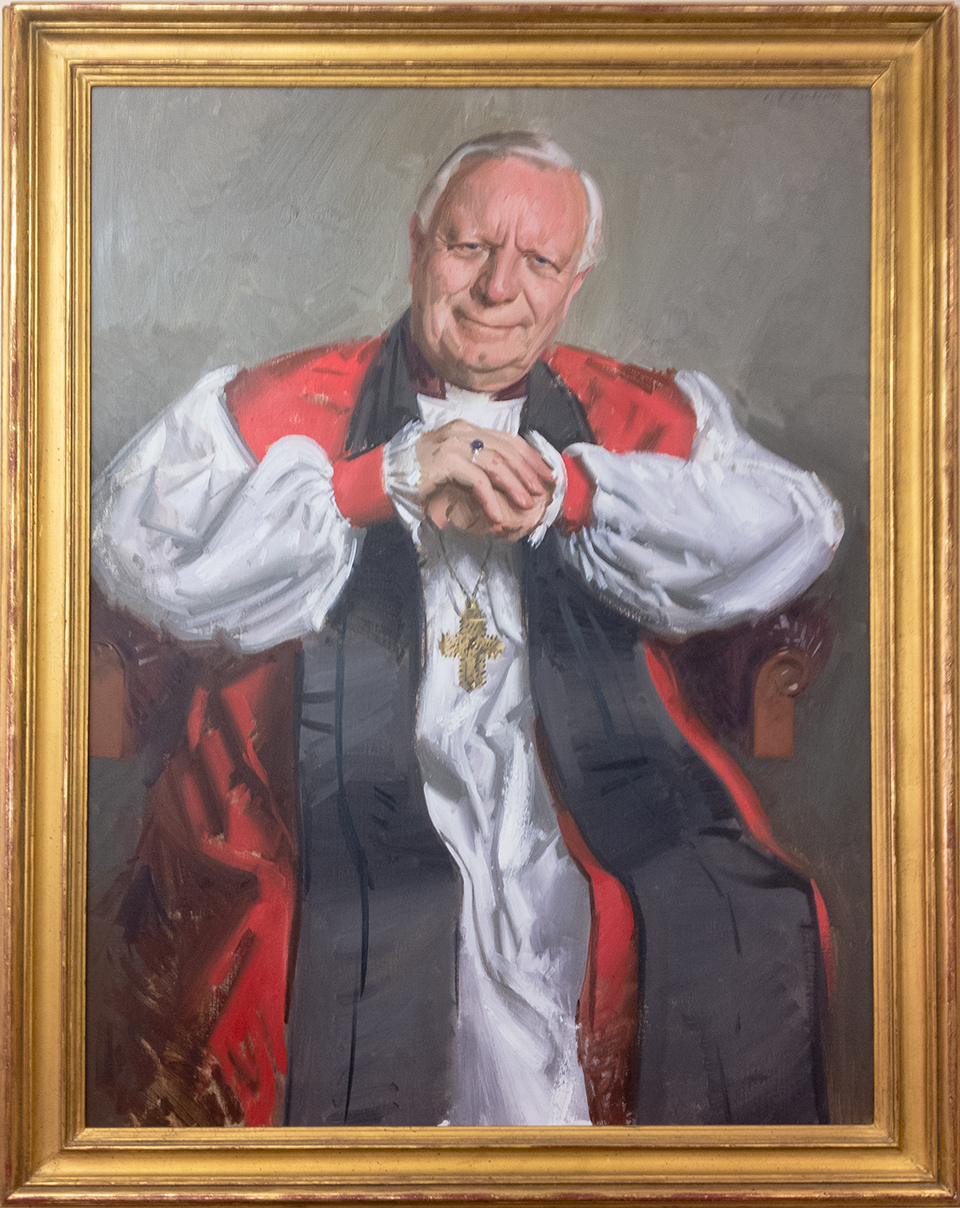 The Diocese is sad to announce that the former Bishop of Lichfield, the Right Revd Keith Sutton, has died aged 82.
Bishop Keith (captured by artist Andrew Festing, above) was installed as the 97th Bishop of Lichfield in 1984 and served in the role until his retirement in 2003.
Following retirement, he moved to Cornwall before relocating to the Isle of Wight to be closer to his family. He died today, Friday 24 March, at a care home in Surrey after living with dementia for several years.
The current Bishop of Lichfield, the Right Revd Dr Michael Ipgrave, said: My condolences and prayers are with Keiths family at this time. Keith served the people and churches of Staffordshire, Shropshire and the Black Country as diocesan bishop for 19 years. He is very fondly remembered by many people and his legacy treasured.
Before coming to Lichfield, Bishop Keith was Bishop of Kingston from 1978 to 1984. He had strong links with Africa and was sent as a special envoy by the Archbishop of Canterbury to support Archbishop Desmond Tutu in apartheid-torn South Africa in the 1980s.
David Brown, who served as Lay Assistant to Bishop Keith from 1992 until 2003, said: Bishop Keith was a missionary bishop who had served in Uganda with the Church Mission Society for several years. His ministry was shaped by a profound impulse to draw people into Christian faith, and to nurture those already on this path. He made this his priority despite the organisational demands of episcopacy that too easily stood in the way. Warm-hearted to all, he had an unusual ability to gain the confidence and trust of those he met. A fellow bishop once told me he was the saint within the House of Bishops. He was a man of grace and truth.
Bishop Keith is survived by his three sons Mark, Paul and Andrew and his daughter Jacqui. Funeral details, and a fuller tribute, will follow in due course.