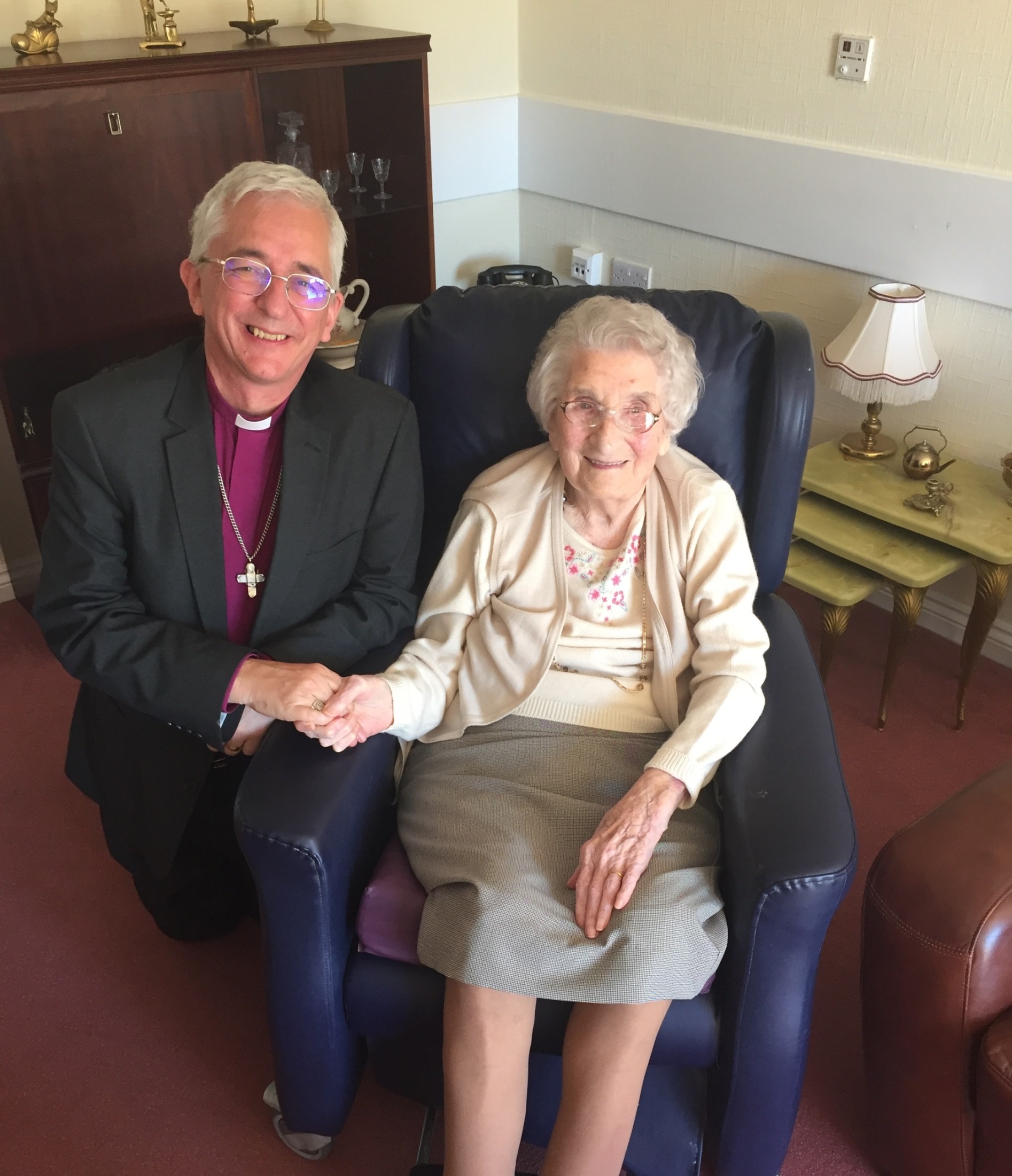 The Bishop of Lichfield, the Right Revd Dr Michael Ipgrave, has paid tribute to a Stoke-on-Trent prayer warrior who has died aged 109.
Marion Rowson was the oldest person in Staffordshire and believed to be the oldest and longest-serving member of a church in the Diocese of Lichfield.
The great-great grandmother was born on at Wetley Moor Farm in 1907 and lived on Church Farm - now a housing estate - next to St Marys Church in Bucknall as a small girl. She became a member of St Marys as a young girl, continuing as a faithful worshiper there until the age of 100 when ill-health meant she received communion at home.
Marion was visited by Bishop Michael when he was in Stoke-on-Trent last October (pictured above).
He said: It was a real pleasure to meet Marion and spend some time with her. She had a deep and strong Christian faith, and was a regular home communicant. Following her death, Ive learnt that she prayed for me every day since we met. I feel privileged to be one of the many beneficiaries of her faithful and joyous devotion to God.
Marion, who died on 1 April following a short illness, was a seamstress who worked until her mid 80s teaching people to make their own clothes.
The Revd Nigel Evans, Team Rector for Bucknall, said: Marion remembered the first car coming to Bucknall and travelling to Hanley on horse and cart.
I described Marion as a prayer warrior - she would right up until the last days of her life, pray about the events in the notice sheet and through the many visits of her friends pray for those in struggling with health. Although her physical health deteriorated due to age, she remained alert and focused right up until the end of her life. She was always particularly interested in the younger generation and in the activities we put on to encourage children and families into the life of the church.
She was delighted to receive a visit from Bishop Michael when he visited Stoke and prayed for him every day following that meeting. It was always a privilege to spend time in her company, and no matter what her issues were, you left feeling listened to and blessed by her. She will be missed by everyone at St Marys, but never forgotten as an inspirational woman of God.