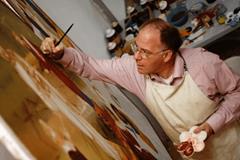 February in Lichfield Cathedral will stand out as a great opportunity to contemplate the place of icons in our spiritual lives.
The Elias Icon exhibition will contain works by the renowned iconographer Ian Knowles, who is currently the Director of the Bethlehem Icon Centre in the Holy Land.
Ian will be giving two lectures, for which there will be a retiring collection, on Saturday 8 February (10:30 12:00) and Wednesday 26 February (13:15 14:15). A five day course of icon writing will also take place from 10 14 February.