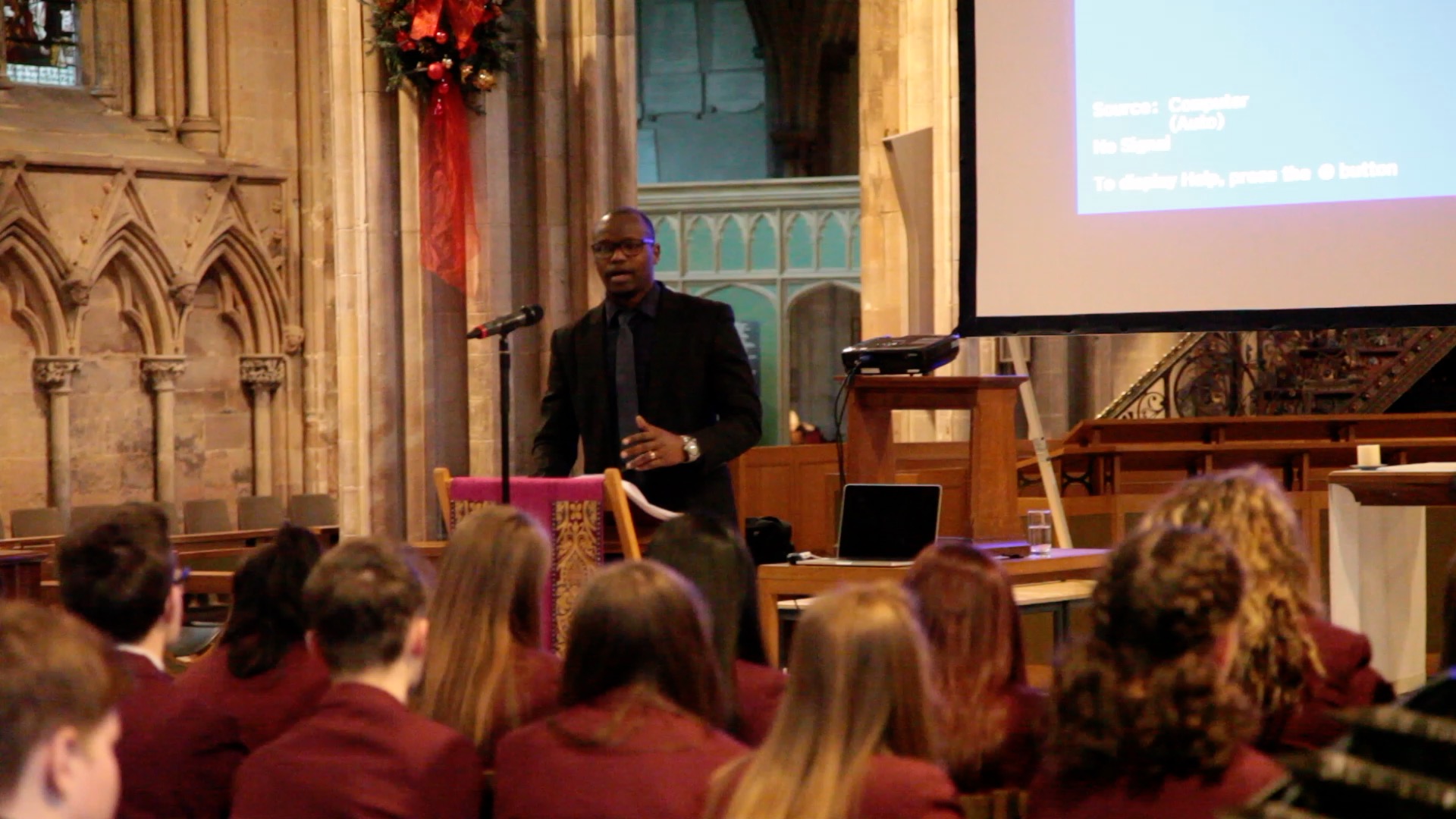 A survivor of Rwandan holocaust and the descendant of Nazi holocaust survivors were among speakers at today's memorial events at Lichfield Cathedral.
Speakers at an event for schools this morning included Ganza Gahizi Dieudonne (pictured above), a survivor of the 1994 Genocide in Rwanda, and Dr Martin Frisher from Stoke Synagogue, whose mother escaped a Lithuanian ghetto.
The Bishop of Lichfield called for renewed determination to combat antisemitism and for Jews and Christians to stand together as he spoke in the cathedral.
Right Revd Dr Michael Ipgrave, who is also chair of the national Council of Christians and Jews, said:
Our mood today has to be one not just of wistful sadness, but also of renewed determination. And that determination is needed now as much as ever, perhaps in some ways more needed now than at many other times. The last couple of years have seen a growing wave of antisemitism across Europe, and our own country has not been exempt. And antisemitism in turn has been accompanied, as it so often is, by other forms of hatred, resentment and suspicion directed against any groups who can be targeted as being in some way different. In the face of this, today asks of us both remembrance and vigilance. At stake is the fundamental truth that Jews and Christians hold in common: that men and women are made in the image of God. To demean, to hate, to plan to destroy our fellow men and women, whatever their race or religion, means nothing other than to demean, to hate, to plan to destroy the God in whose image they are made though nobody can destroy God whose life is indestructible. Seeing the image of God in all people, we are commanded to love all - a commandment to which Jewish communities still bear witness, despite all that Gods enemies tried to do to them in the Holocaust. In the words of the Mishnah:
'Whoever destroys a soul, it is considered as if he destroyed an entire world.
And whoever saves a life, it is considered as if he saved an entire world.
His full text can be read here.