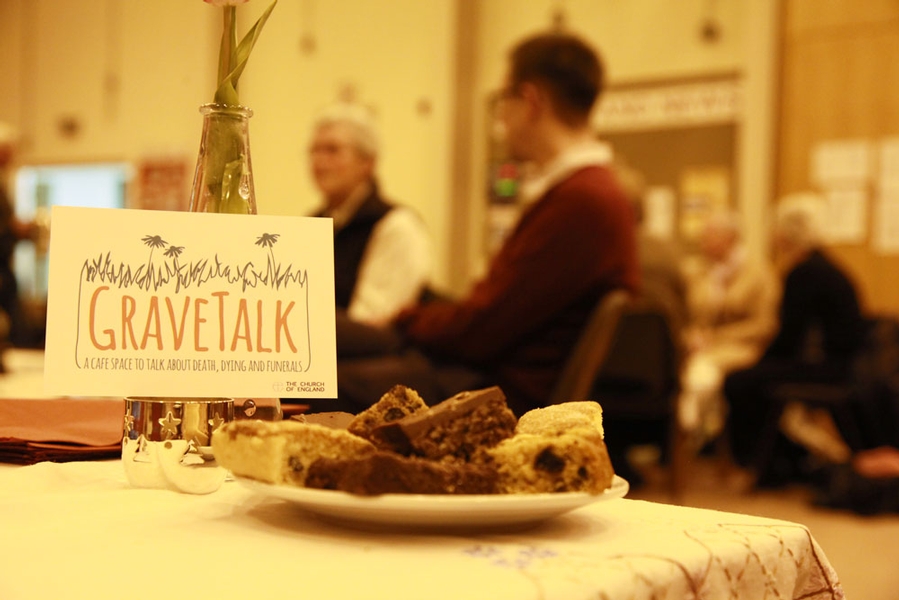 Planning your own funeral and how we would like to be remembered are just two of the topics being discussed in GraveTalk, conversations being run in the Diocese of Lichfield to provide people with the opportunity to talk about funerals and death.
The caf-style gatherings in churches are part of an ongoing Church of England research project into funerals. Funded by the Archbishops' Council, the project takes a look at a range of emerging questions about death a topic that research shows people often shy away from discussing.
Under the working title GraveTalk, the events are being run in 30 parishes within the Diocese of Lichfield, until the end of February. Small teams from each parish are inviting local people to come to a caf-style event, which has an informal format including light refreshments and small group discussion. Events are open to people of all faiths and none.
Revd Stuart Powell, priest-in-charge of St Martins, Wolverhampton, said: It was a good experience. People were really taken by it and kept talking and sharing right to the end.
Revd Valerie Pitt, associate minister at Holy Trinity Meole Brace, said: We had very open, varied and deep conversations about death and dying. It was good to hear each others experiences and stories.
Revd Maureen Tideswell, vicar of Knutton St Marys, said: It got people talking on things they had longed to talk about but never had a space to do it in. It was a good experience, and were looking forward to doing it again.
Revd David Primrose, Director of Transforming Communities for Lichfield Diocese, said:
As a parish priest I know the importance of providing safe spaces where people can talk about issues such as death and dying away from the pressures of commercial interests or the drama of popular entertainment. Churches are well-placed to host open conversations for people to explore the deeper questions of life and death. I am delighted that parishes in the Diocese of Lichfield are involved in piloting GraveTalk, and I am confident that in the coming years, many more churches will use this way to enable people in their community to talk freely about death, dying and funerals with sensitivity, understanding and confidence.
Leading the initiative is the Archbishops' Council Head of Projects the Revd Dr Sandra Millar, who said: Helping people to plan a funeral, supporting those who are grieving, and being there for those who simply have many questions about the reality of death, are some of the of the most fundamental things that the Church of England does, and has done for hundreds of years. By offering an informal and supportive environment in which to discuss all kinds of themes around mortality, we hope to provide a helpful space to talk, share and plan. At the same time, we may learn more about how to support those in need at some of the most difficult times in their life.
If GraveTalk proves to be successful in the trial, more churches could adopt the format.