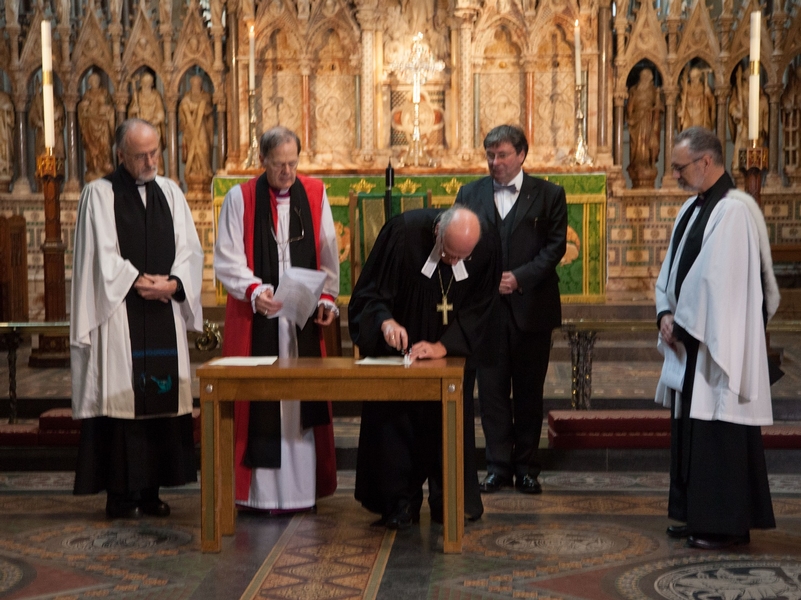 There was cause for celebration at Lichfield Cathedral on Saturday as the partnership covenant between the Diocese of Lichfield and the Evangelisch-Lutherische Kirche in Norddeutschland was signed for a fourth five-year term.
"Transforming communities is very important for this Diocese" said visit organiser, Revd Terry Bloor. "We often think of communities at our local level, but we are part of a global church. This link helps consolidate the reconciliation work that goes on between our two nations".
The visit incorporated a number of visits and services, with time to make new friendships, and refresh exisiting ones.
The Presiding Bishop of the Nordkirche Gerhard Ulrich and Bishop Jonathan Gledhill signed the agreement at a special service. They were joined by members of the diocesan link team and guests from Germany who have been visiting during the past week. Enjoy audio from the service and a video about the link here:
The entire service can be listened to or downloaded:
After arriving on Friday and a communal meal with their hosts at St Mark's Church, Basford, Landesbischof Ulrich outlined the history of the Nordkirche - which came into existence in 2012 as three separate Churches along the northern coast, spanning the old East and West German border united.
The whole visiting group, with people from the North Staffs Anglo-German Club and parishioners from the host parishes in Stoke, Newcastle and Salop, were at St. Mark's, Shelton (Hanley Team) on Saturday evening for the 'Anticipating Advent' service. This is an annual, bilingual celebration of our Partnership which this year also included an act of remembrance (WW1) and a commitment to work for reconciliation. Bishop Geoff gave an Advent reflection at this. Afterwards, the fellowship over refreshments allowed for discussions concerning future potential, reciprocal visits and projects. The level of interest in the Partnership is clearly growing - an encouraging sign.
On Sunday morning, the visitors worshipped at various churches determined by their host parishes. Jens-Peter Drewes (Ecumenical Officer for Mecklenburg) and his wife Sabine drove to All Saints', West Bromwich for worship and some networking with The Revd Andrew Smith and his congregation who have expressed an interest in the Partnership.
Bishop Ulrich (Presiding Bishop of the Nordkirche) preached at a church in Lichfield (organised by The Ven Simon Baker, Archdeacon of Lichfield).
They all returned to the cathedral at 6.00pm on Sunday for Advent Carols with refreshments afterwards in College Hall where they met Canon Pat Hawkins and Canon Anthony Moore.