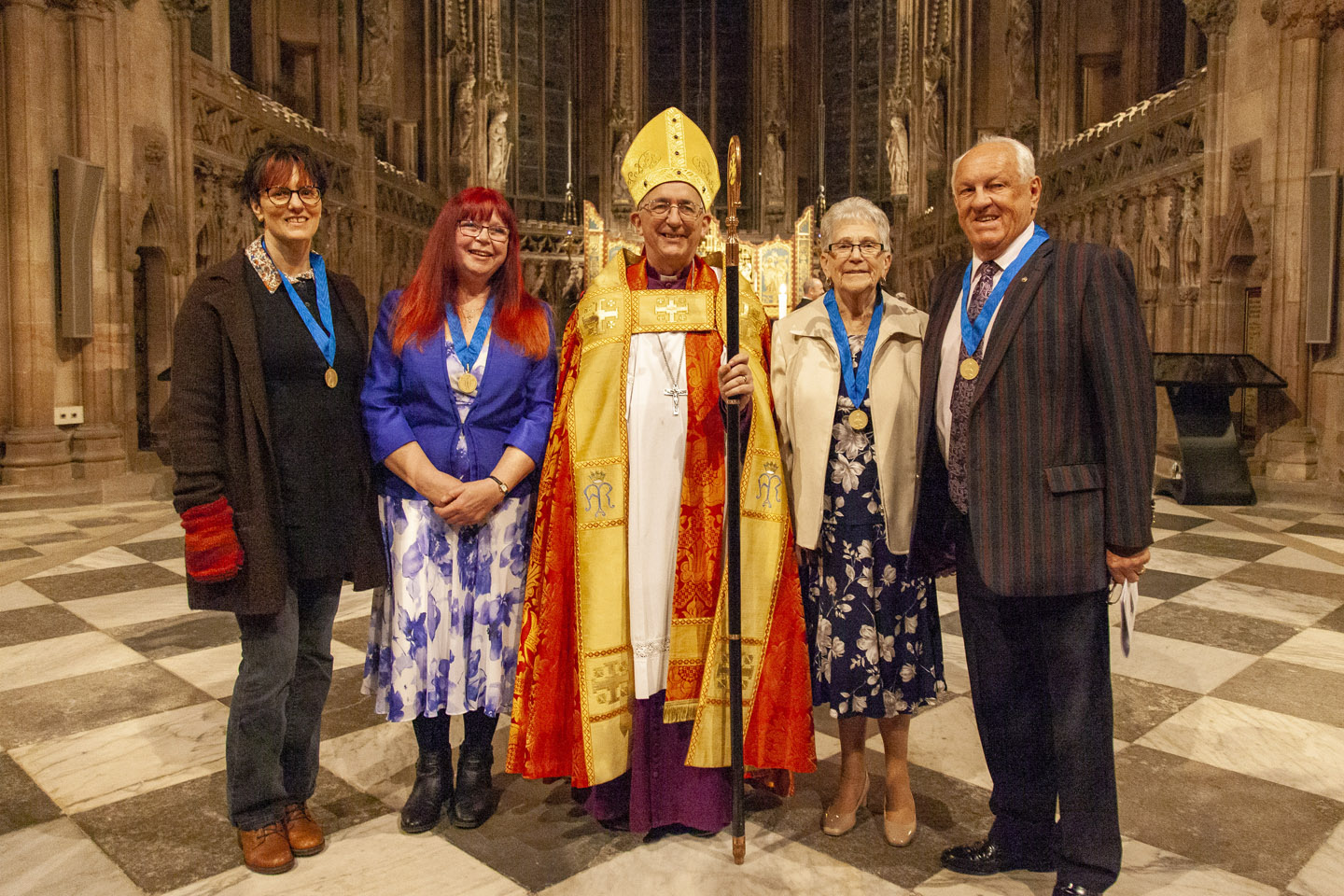 The Bishop of Lichfield, the Right Revd Dr Michael Ipgrave, recognised the unsung hours of service to churches and communities throughout our region by local people when he awarded them St Chad's Medals at Lichfield Cathedral.
The medal is given to lay people who have made a particularly valuable contribution to Christian life in the Diocese of Lichfield. It is named after the first Bishop of Lichfield, St Chad, who charged his followers to have lives characterised by 'watching, prayer and good works'.
Bishop Michael presented the medals, in the second year of the annual award, to four people – Geoffrey Brown, Lynne Mills, Jean Myatt and Liz Jermy - at Lichfield Cathedral, the ancient seat of St Chad, on St Chad's Day, Monday 2 March. A fifth recipient, Michael Carding, will receive his medal at a later date. Citations for all five are below.
The medal winners have served in a wide variety of places including Burton, Stoke-on-Trent, Oswestry, Great Wyrley and Shrewsbury. Their contributions include voluntary work with children, charities and community groups as well as many hours spent serving local churches.
Bishop Michael said: "Lay people are often the unseen heroes who keep churches and communities running on a daily basis across the Diocese of Lichfield. The St Chad's Medal is one way of recognising their tireless service while encouraging more people to follow Christ in the footsteps of St Chad, partnering with others in their communities to seek the common good. As this annual event becomes further established, I would love to receive more nominations from across our diocese."
You can nominate someone via the Bishop of Lichfield's office.
Geoffrey Brown
For outstanding service as a churchwarden. Geoff has been Churchwarden at St Modwen's, Burton, for over 40 years and has managed several vacancies with an exemplary knowledge of the Church of England. He is also known throughout the Burton area and through his many years of work with Bretby Rotary Club. Geoff is widely respected and admired and his sense of duty and service is exemplary. St Modwen's recently retired Vicar, the Revd Stanley Monkhouse, described Geoff's unwavering support as "utterly steadfast".
Lynne Mills
For outstanding voluntary service in and around the Diocese of Lichfield. Lynne serves as the inaugural Warden to the diocesan Community of Evangelists. She has been volunteering in evangelism and mission around the diocese for well over a decade, being the diocese's most prolific 'Mystery Worshiper'! She has planned and served in many mission weekends and events and has been a stalwart in the Churches Tent at the annual Staffordshire County Show. Beyond her diocesan work, Lynne serves as the volunteer administrator for the Fellowship of Parish Evangelism and is a trustee of Hands At Work, a charity that links churches and schools in South Staffordshire and Southern Africa. She also find times to worship and serve in her home church of St Mark's Great Wyrley as well as being a devoted grandma, mother and daughter.
Jean Myatt
For outstanding service as a churchwarden. Jean has been a faithful member of St Mary and St Chad's Church Longton, Stoke-on-Trent, since an early age. An octogenarian, she continues to demonstrate her Christian faith and is well-known in the community for being approachable, friendly and willing to help. Jean has many roles in the church and is 'hands on' in carrying out many tasks quietly and without fuss as well as being the link person with several community groups. She is an ardent and enthusiastic fundraiser and manages many church events. A clear 'people person', there is no doubt Jean's devotion and tireless energy help St Mary and St Chad's remain a beacon of Christian worship and witness in Longton.
Liz Jermy
For outstanding service to children and the community. Liz has been a foster mother to a number of children including those with mental and physical disabilities and is deeply involved in education. She has achieved very impressive work with the food bank in Oswestry in a hands-on capacity as well as organising a huge number of Christmas hampers and acting as a food bank advocate across the Oswestry area. Along with her own ministry in these areas, Liz has played a supportive role in the ministry of her husband, the Revd Stuart Jermy.
Michael Carding
For outstanding voluntary service to the church and young people. From 2016-2018, Michael was coordinator of the St Chad's Volunteer programme which saw many young people visit the diocese or spend time in our link dioceses on placements for six to 12 months. He is also a member of Trinity Churches in Meole Brace, Shrewsbury, and as Tower Captain he has taught a band of bell ringers from scratch. After a long silence the bells have been rung for worship, every Sunday without exception, for over six years. Michael has also been involved in leadership of a LIFE group for young people of secondary school age. He is a volunteer for the Shrewsbury Food Hub and on Good Friday 2020 will play Pilate in the Shrewsbury Passion Play.
More photos from the service can be found on our Flickr account.