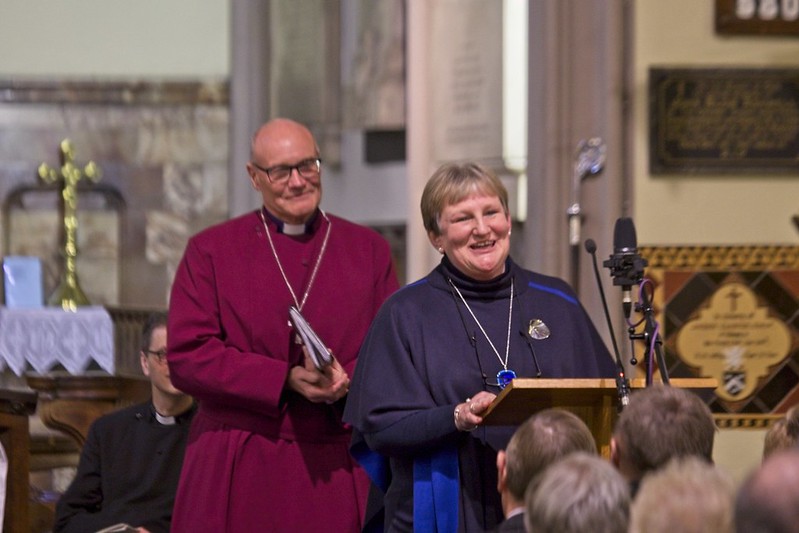 The Bishop of Stafford, the Rt Revd Geoff Annas, and his wife Ann said goodbye to the diocese by celebrating unsung work by local churches.
The couple came to the Diocese of Lichfield in 2010 to join the episcopal team led by the Bishop of Lichfield. As Area Bishop of Stafford, Bishop Geoff has overseen a region that includes Stoke-on-Trent, Stafford, Newcastle-under-Lyme, Burton-on-Trent and many rural communities across North Staffordshire. He announced in July that he was to leave shortly before his 66th birthday and that he and Ann would return to live in Southampton, where he previously served, close to their family.
A packed Stoke Minster hosted an emotional and uplifting 'Good News from Staffordshire' service yesterday which featured 12 short first-hand stories of work across the Stafford episcopal area, including a school uniform project in Chell, a foodbank in rural Waterhouses, links between Barlaston Church and Kenya and the Night Church outreach to clubbers in Hanley. Ann, a ophthalmologist, also shared about developing work to care for clergy partners across the diocese. The service was recorded by BBC Radio Stoke for broadcast.
Bishop Geoff said: "We have heard a dozen stories from Churches in every one of the Deaneries across North and East Staffordshire and we have listed over 30 other examples in our Worship Booklet. These are Good News stories that reminds us that most of our churches are vibrant worshipping communities that are confident in living out what Jesus has taught us and love the Community they serve.
"As a diocese we have a clear vision and our Direction of Travel is a journey that will take us much further as we focus on the key areas of discipleship, vocation and evangelism. Ann and I have enjoyed being part of this journey thus far but now believe it is right to step aside and allow a new Bishop to lead this episcopal area into the new decade.
"Retirement has not been an easy choice to make it is no secret that we really enjoy being part of this diocese and have made many friends. We appreciate the warmth and strength of the community spirit across this area and we will be taking with us many happy memories. The new Bishop will indeed be blessed by being called to work in such a beautiful part of the country with such wonderful people."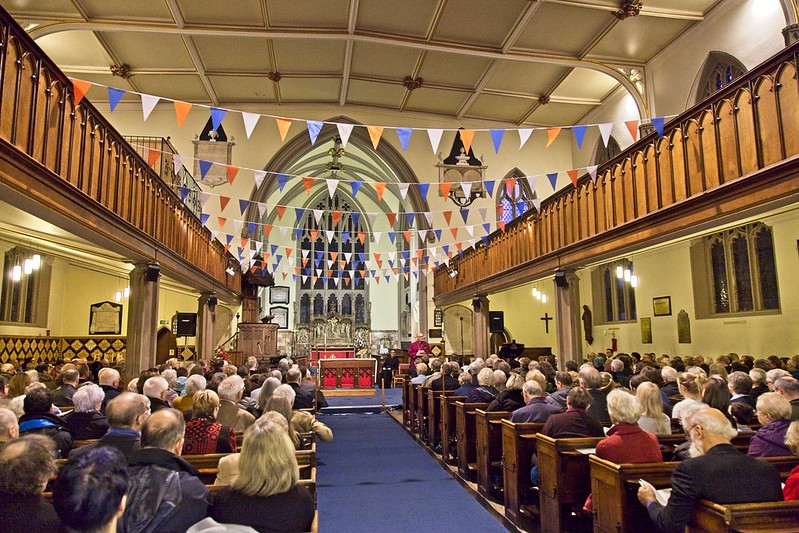 The Bishop of Lichfield, the Rt Revd Dr Michael Ipgrave, praised Bishop Geoff's "passion, wisdom and kindness."
"There's something about Bishop Geoff that always reaches out to the lonely, that's patient with the slow and is always ready to give somebody a second chance," he added.
The Lord-Lieutenant of Stafford Ian Dudson highlighted Bishop Geoff's contribution to "communities and civic structures" including his work to tackle the challenges and causes of poverty in Stoke-on-Trent as Chair of its Hardship Commission along with his commitment to Staffordshire's rural community.
Sarah Parker singled out "the depth of Ann's depth of care and support" for clergy families, alongside her job as a doctor.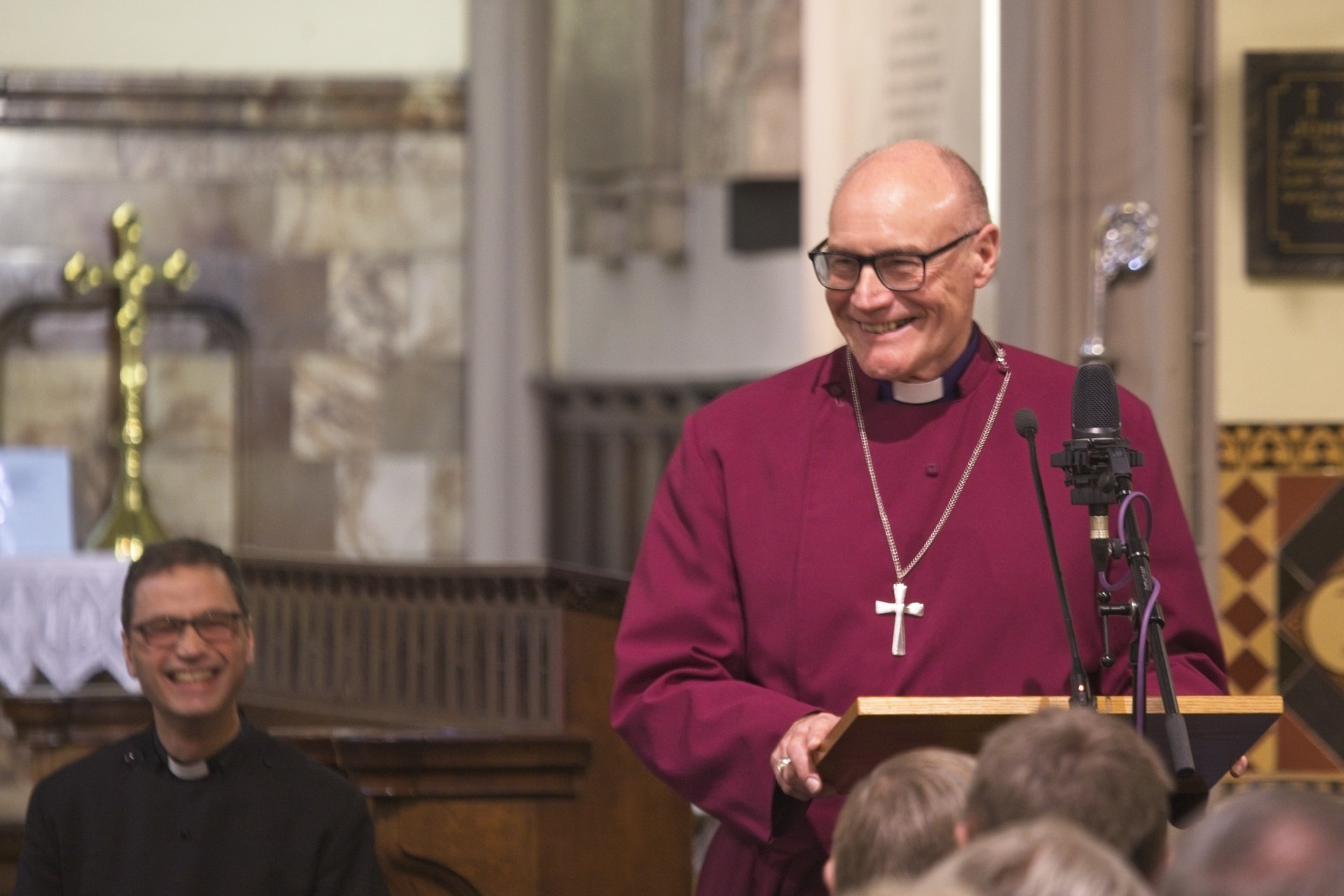 After the event, Bishop Geoff said: "It was a wonderful day and we were overwhelmed by the number of people who filled Stoke Minster. We are also grateful for the many cards and emails we have received wishing us well for the future. The gifts from individuals, parishes and of course the wider diocese have made both Ann and I feel very humbled as it has been a pleasure to serve in this exciting diocese and we have already felt rewarded by the warmth and love that you have shown us.

"As we prepare to begin a new chapter in our lives we wish you all well and will continue to pray for you all. With our thanks, our love and every blessing, +Geoff and Ann."
More photos of the service are available on our Flickr site.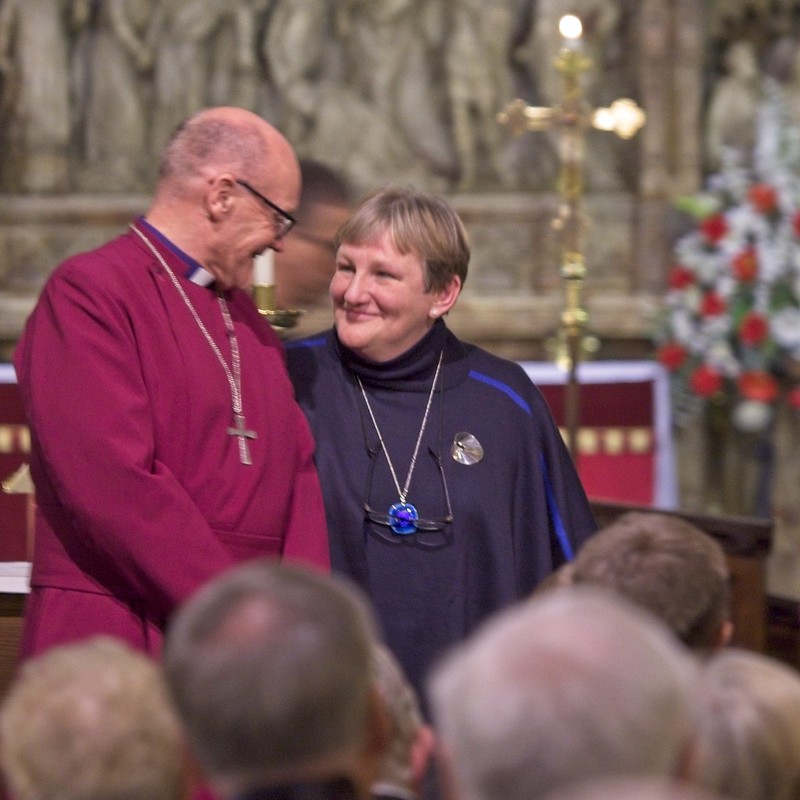 Now that the diocese has said goodbye to Bishop Geoff, the process will begin to appoint a new Area Bishop of Stafford. This will be the responsibility of the Bishop of Lichfield as diocesan bishop. Bishop Michael has appointed a small advisory group to assist him in the process; this will include people from the Stafford Episcopal Area, the wider diocese and a national representative from another diocese, and will be supported by the Archbishops Secretary for Appointments.
The first task of the group will be to make the case for filling the vacancy, both in terms of the support of pastoral ministry in the Stoke-on-Trent and North Staffordshire area, and in terms of a new area bishops diocesan-wide responsibilities. With the support of Diocesan Synod, this will then be presented to the national Dioceses Commission. When approval to proceed with filling the see is received, a role specification will be drawn up.
In early 2020, the group will work with Bishop Michael to identify suitable candidates. Bishop Michael said: "We will be looking for experienced priests who are ready for episcopal ministry; who have the right qualities and gifts for the Stafford Episcopal Area; whose appointment would bring good balance to the team of bishops in the diocese; and, most importantly, who have a strong sense of calling to the role of Bishop of Stafford. I am grateful to the many people who have already brought names to my attention, and I am always open to suggestions. Most of all, the members of the advisory group and I will value prayers for the guidance of the Holy Spirit in this very important process."
When the discernment of an appropriate candidate is completed, approval of the nomination will be sought from the Crown, and a consecration date identified. This will hopefully be in the summer of 2020. In the meantime, Bishop Michael will aim to devote a larger proportion of his time to the Stafford Episcopal Area, working closely with the Archdeacon of Stoke and with the rural deans and lay chairs of the area.