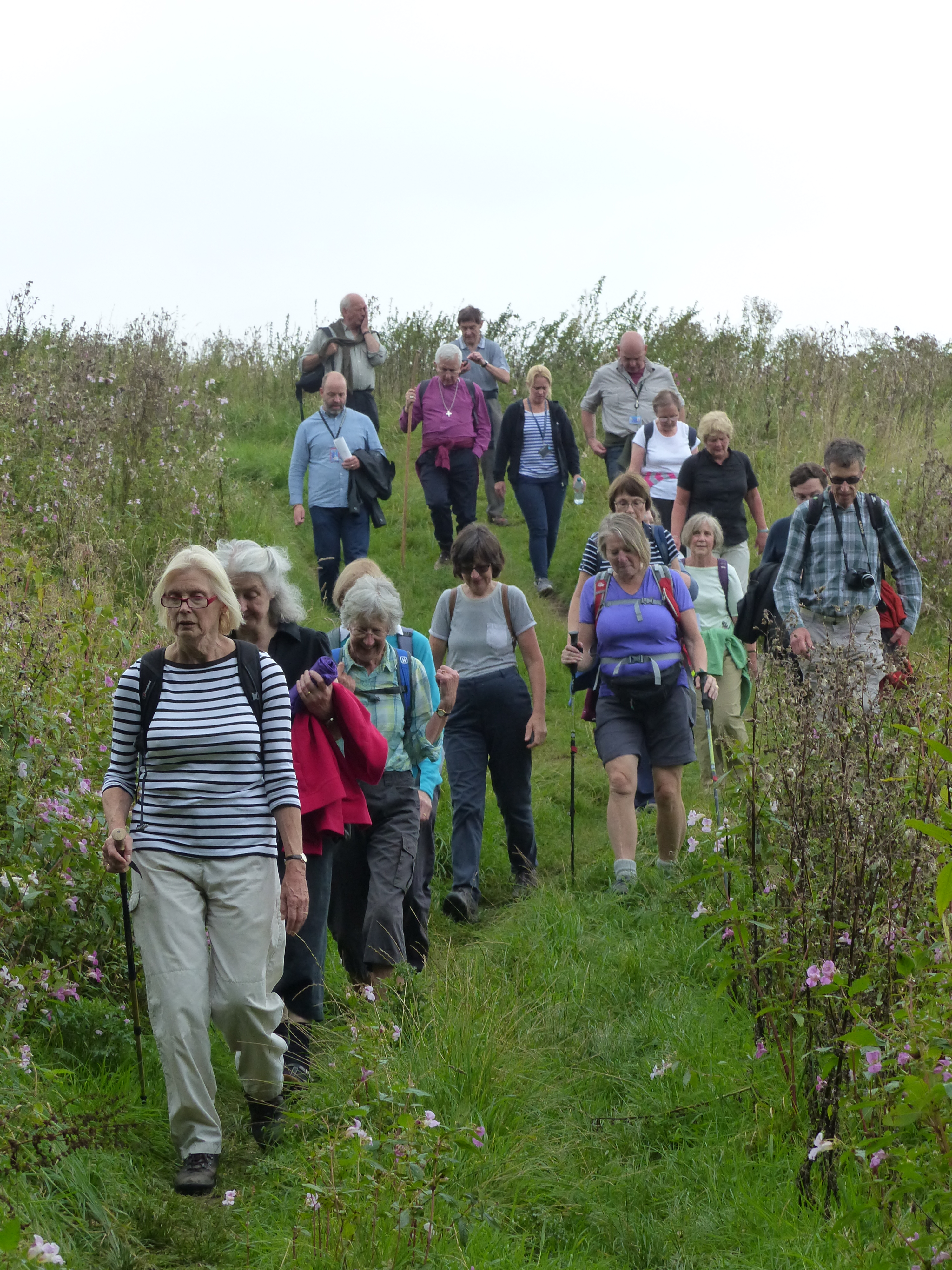 An evangelistic pilgrimage from Shrewsbury to Lichfield from 25 February - 1 March 2018
Bishop Michael and a group of deacons from across the diocese will be walking from Shrewsbury to Lichfield to talk to people about Jesus along the way. The pilgrimage emerged following a challenge from the Archbishop of Canterbury for Bishops to prioritise five days of their time in the year to engage in intentional evangelism alongside new clergy to help them develop their skills and to see this as a priority for their future ministries. So seven first-year curates will be among those join Bishop Michael.
The route will take the pilgrims along parts of established long distance footpaths including The Severn Way, The Monarchs Way, Staffordshire Way, Heart of England Way, arriving in Lichfield for St Chads Day celebrations at the Cathedral on 1 March.
Working with local parishes; the pilgrims will be involved in a variety of evangelistic events in:
Shrewsbury, Wrockwardine, Telford, Shifnal, Tong, Brewood, Wheaton Aston, Penkridge, Chasetown and Lichfield.
Anyone is welcome to join Bishop Michael on any day; but will need to arrange own transport and food.
It would help to let David Cundill or Rebecca Lloyd know in advance that you plan to join the pilgrimage though isn't vital.
Start: Old St Chads Church, Shrewsbury 2 Milk St, Shrewsbury SY1 1TD (SJ 4921 1234) Meet at 9am
End: Christ Church, Cressage SY5 6DF (Hereford Diocese) Arrive approx. 4.40pm.
Along the way:
New St Chads Shrewsbury, Shrewsbury Cathedral, Shrewsbury Abbey 1.1 miles (depart 12.30pm)
Atcham 4.5 miles (SJ 541 092) (arrive approx. 2.00pm)
Wroxeter Church, Roman Village, Vineyard 6.8 miles (SJ 562 082) (arrive approx. 3.00pm)
Start: St Peter and St Paul Church, Sheinton, Church Farm Barns, Sheinton, Shrewsbury SY5 6DN (SJ 6109 0396) Depart 9.00am
End: St Andrews Church, Pemberton, Mill Ln, Kemberton, Shifnal TF11 9LUArrive approx. 3.10pm.
Along the way:
The Ironbridge 4.8 miles (arrive approx. 11.00am; depart 1.00pm)
Iron bridge St Lukes Church, Jackfield St Marys Church
Tar Tunnel/Inclined Plane
Start: Junction between Evelith Rd and Hinnington Lane SJ 7524 0535. Depart 9am
End: Church of St Mary and St Chad Brewood, 11B Church Rd, Brewood, Stafford ST19 9BT (SJ 8830 0868). Arrive 5.30pm
Along the way:
St Bartholomews Church, Tong 4.5 miles (arrive approx. 10.50 am; depart 1.30pm
Whiteladies Priory (remains) 7 miles
Boscobel House 8 miles
Start: Church of St Mary and St Chad Brewood 11B Church Rd, Brewood, Stafford ST19 9BT (SJ 8830 0868) Depart 9am
End: St Michael and All Angels Penkridge New Rd, Penkridge, ST19 5DN (SJ 9214 1415) Arrive 4pm
Along the way:
Shropshire Union Canal
St Marys Wheaton Aston 3.75 miles (arrive approx. 10.30am; depart 1pm)
Mitton 7 miles
Start: Car Park at SK 042 122. Depart 9.30am
End: Lichfield Cathedral SK 1151 0973. Arrive 2pm
Along the way:
Castle Ring Fort 0.4 miles
Christ Church, Gentleshaw 1.2 miles
St Bartholomew Church, Farewell 4 miles (arrive approx. 11.30am; depart 12.30pm
Cross in Hand Lane