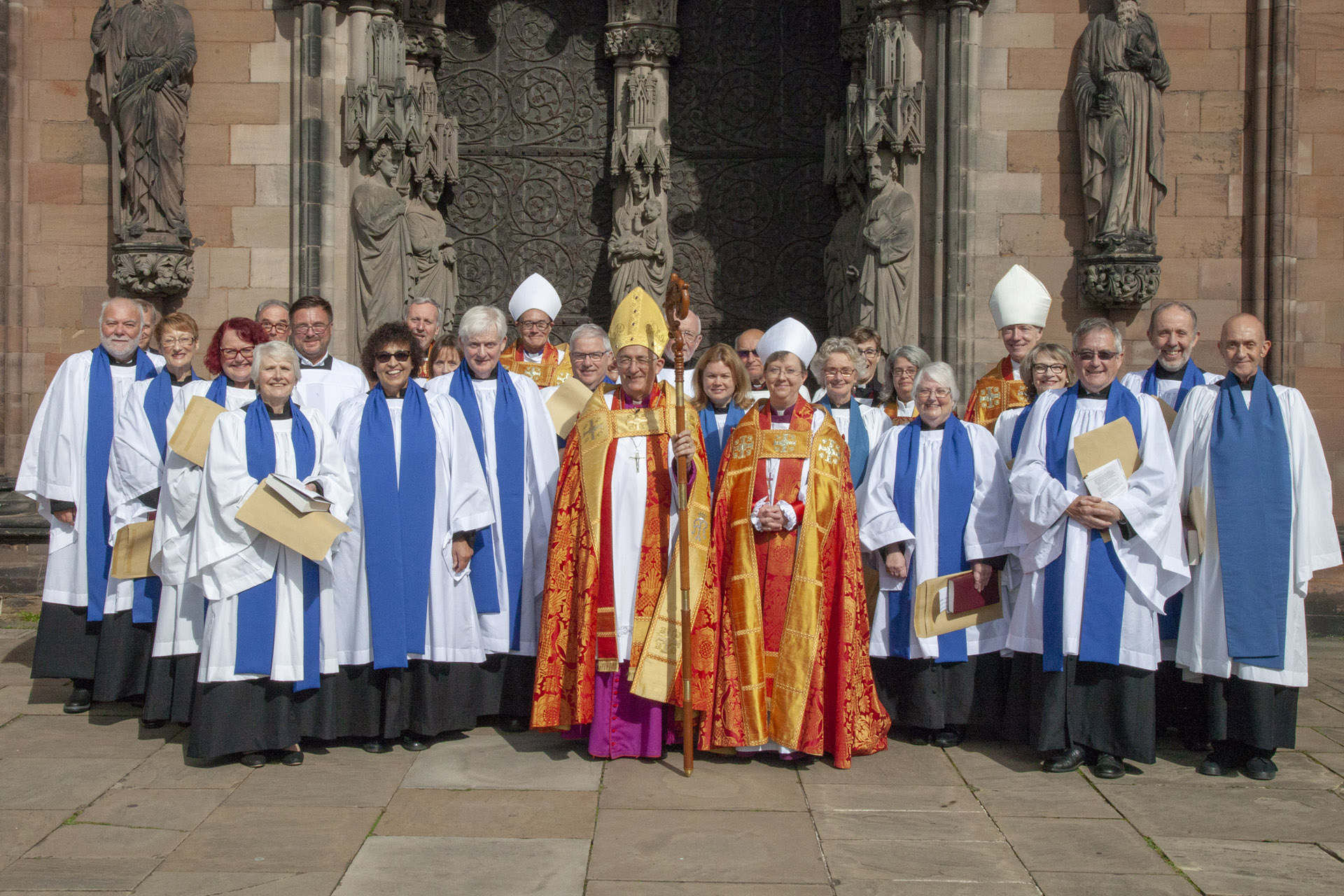 The Bishop of Lichfield commissioned 17 people from across the Midlands as lay ministers in Lichfield Diocese on Saturday.
The new ministers were admitted to office by The Right Revd Dr Michael Ipgrave at a special service at Lichfield Cathedral. They will take up new roles as Readers and Lay Funeral Ministers in various parts of the Diocese which covers Staffordshire, northern Shropshire and the Black Country.
Readers are lay people who have been selected, trained and licensed to preach, teach and lead worship in their local parish or as chaplains. Two of the new Readers, Judith Drury and Jeannine Le Long-McKean, also received a licence to be chaplains - Judith as a prison chaplain and Jeannine as a hospital chaplain - in the Shrewsbury Episcopal Area.
Dr David Allen, Academic Dean at and Tutor in New Testament Studies at the Queens Foundation in Birmingham where many of those commissioned were trained, preached at the service. He talked from St Pauls first letter to Timothy about how Readers are far much more than substitute teachers for Vicars and how their actions, speech and the way they do things really matters.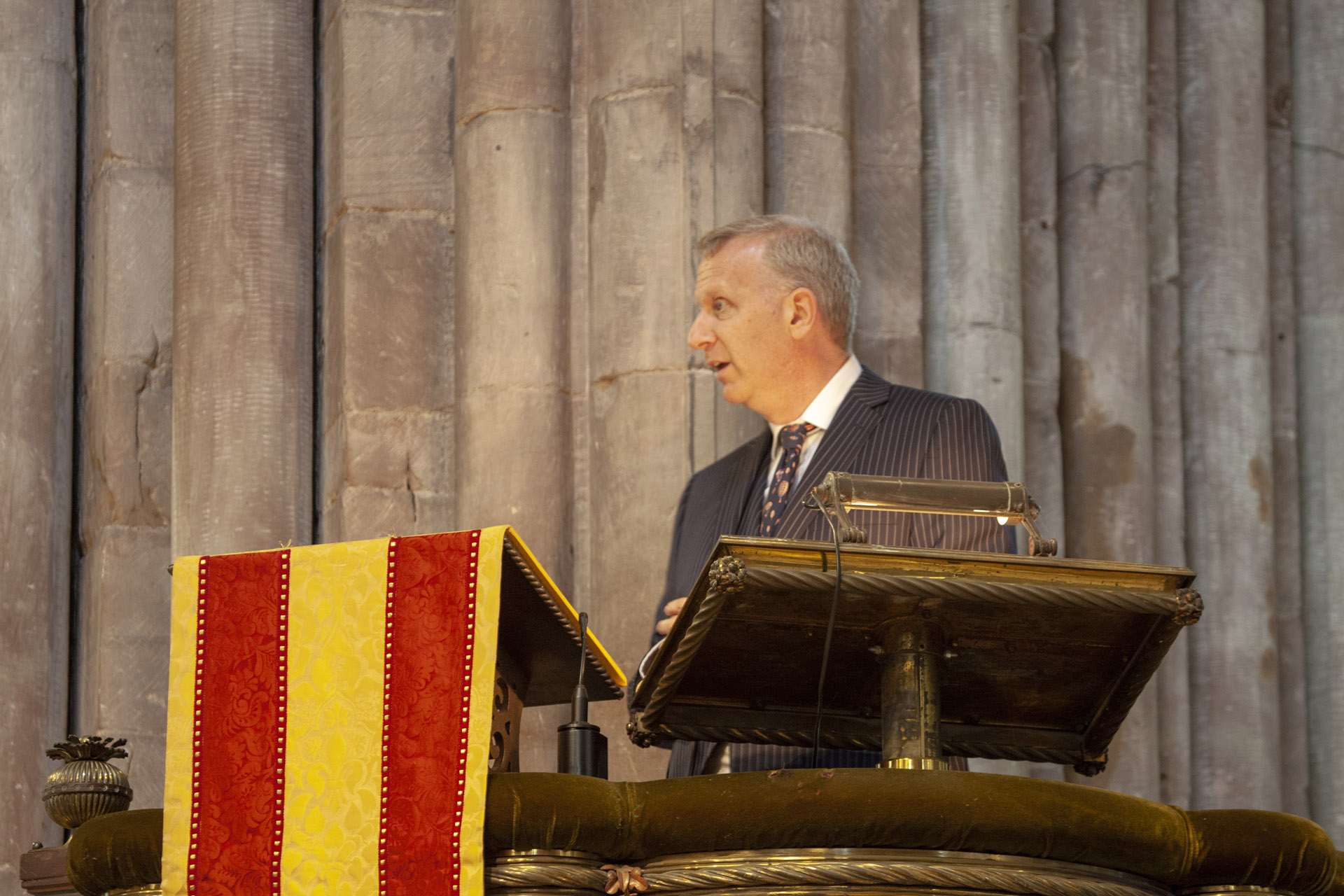 Bishop Michael reminded the candidates that lay ministry is a distinct vocation which greatly enriches the life of the church and the growth of the kingdom of God.
He said: I am delighted to admit these 17 lay people into new areas of ministry. It is always a joy to see people committed to preaching the Word of God and serving the kingdom in their own contexts, reflecting the richness and variety of their communities. I am particularly pleased that there are two new lay chaplains being licensed. This reflects a real commitment on the part of the diocese to recognise and support the invaluable work of chaplaincy in our hospitals and prisons as well as in many spheres.
Photos from Saturdays service can be viewed here.
Lichfield Diocese has a strong history of supporting and equipping lay ministry. This month sees the launch of a new look Reader-training programme, working with colleagues at the Queens Foundation.
Learn more about vocation here or email helen.scheven@lichfield.anglican.org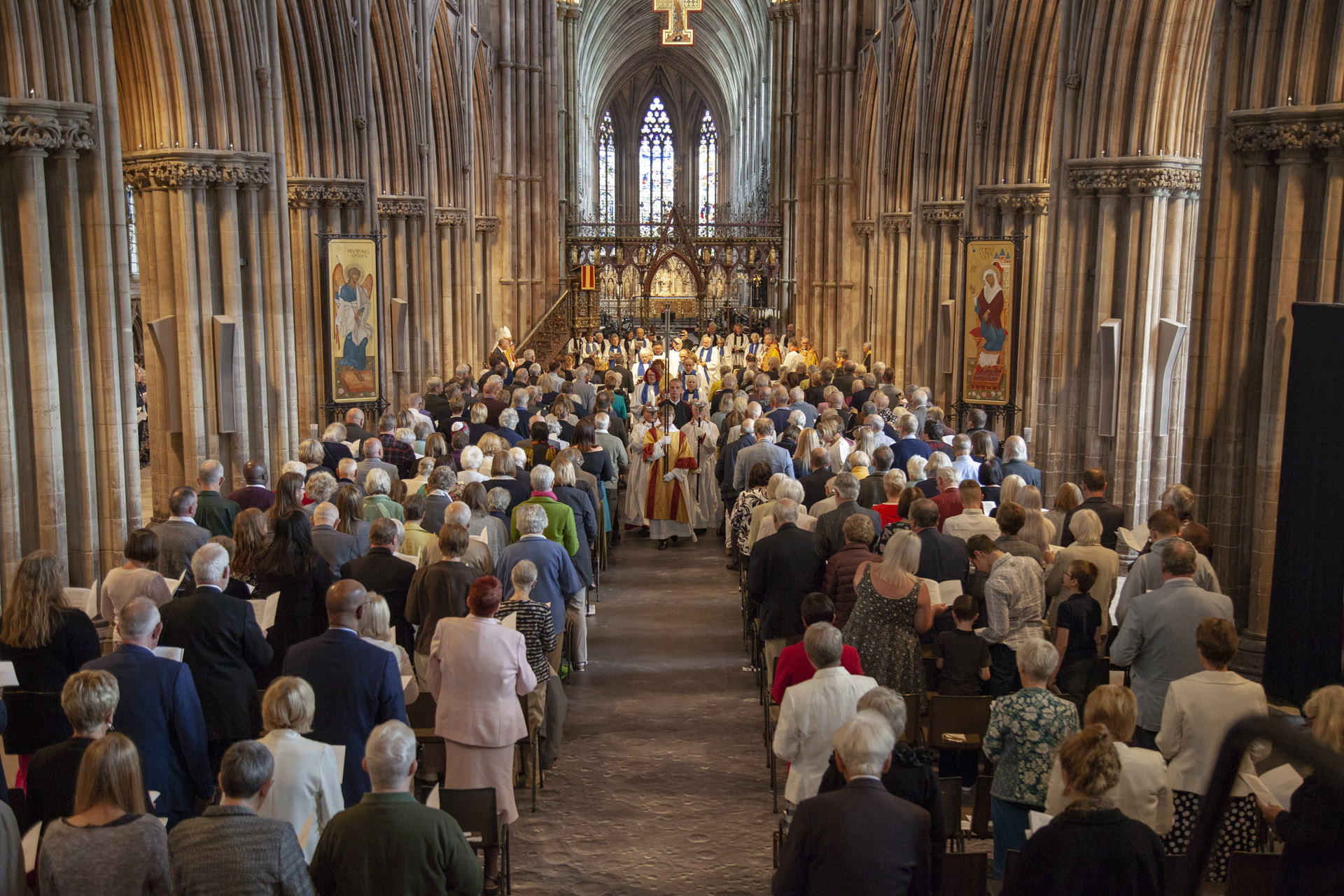 Those licensed were:
Wolverhampton Episcopal Area
Terry Braithwaite to be licensed as a Reader in the benefice of Wednesfield
Geoffrey Ian Goodson to be licensed as a Lay Funeral Minister in West Bromwich Deanery
Lisa Jane Hardy to be licensed as a Reader in the benefice of The Peel Parishes
Darren John James to be licensed as a Lay Funeral Minister in West Bromwich Deanery
Alan Myatt to be licensed as a Reader in the benefice of Streetly
Stafford Episcopal Area
Jean Ainsworth to be licensed as a Reader in the benefice of Betley and Madeley
Nicola Jane Beasley to be licensed as a Reader in the benefice of Cotes Heath and Standon and Swynnerton and Tittensor
Karen Jayne Fearn to be licensed as a Reader in the benefices of Burton St Chad and Stretton with Claymills
Alan Geoffrey Lowe to be licensed as a Reader in the benefice of Cotes Heath and Standon and Swynnerton and Tittensor
Gillian Ann McKenzie to be licensed as a Reader in the benefice of Cotes Heath and Standon and Swynnerton and Tittensor
Shewsbury Episcopal Area
Judith Blodwen Drury to be admitted to the office of Reader in the benefice of Meole Brace with a license to exercise prison chaplaincy
Jeannine Katherine Le Long-McKean to be admitted to the office of Reader in the benefice of Wellington All Saints with Eyton (St Catherines) with a license to exercise hospital chaplaincy
Huw Rhys Morris to be licensed as a Reader in the benefice of the Deanery of Wrockwardine
Sandra Price to be licensed as a Reader in the benefice of Newport with Longford and Chetwynd
Barnaby Reeve to be licensed as a Reader in the benefice of Cheswardine, Childs Ercall, Hales, Hinstock, Sambrook and Stoke on Tern
Robert William Richards to be licensed as a Reader in the benefice of Cheswardine, Childs Ercall, Hales, Hinstock, Sambrook and Stoke on Tern
Valerie Susan Thompson to be licensed as a Reader in the benefice of St Martins and Weston Rhyn