Wednesday 3rd November 2021
11:00am
FACS
Finance and Central Services Committee
Saturday 6th November 2021
3:00pm
Praying for change at COP 26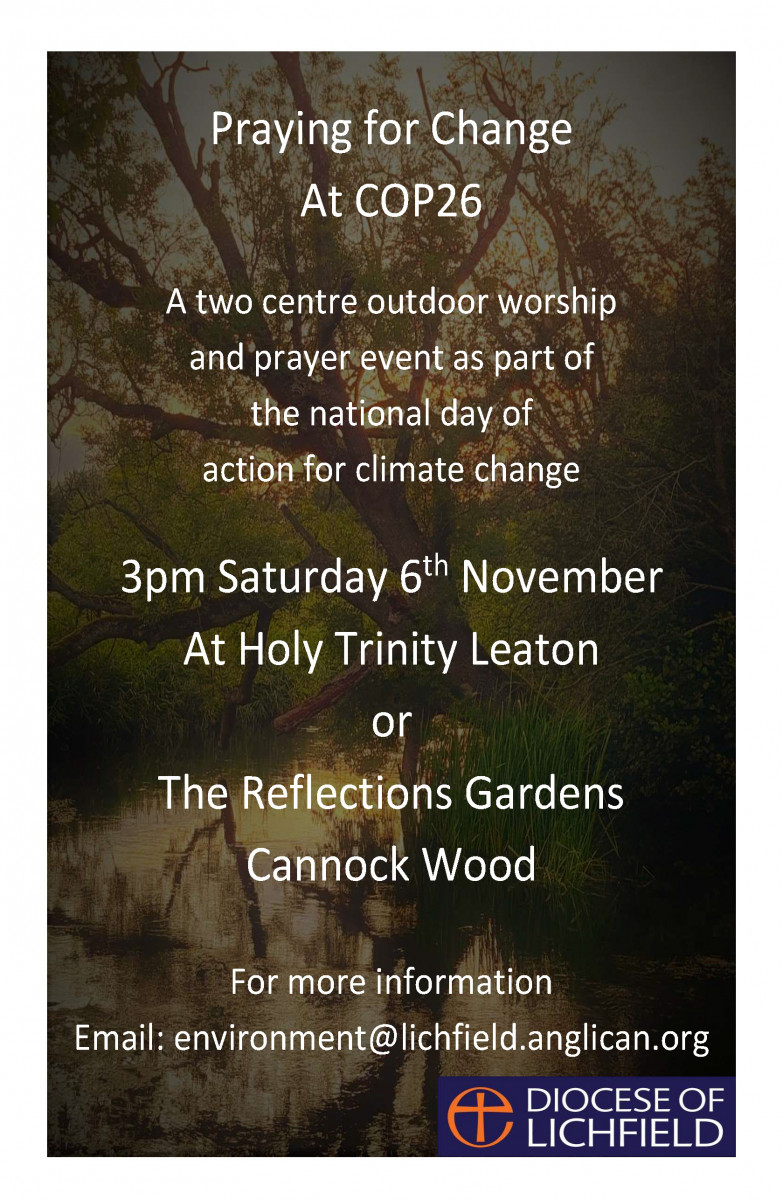 A two-centre outdoor worship and prayer event as part of the naitonal day of action for climate change.
at Holy Trinity Leaton or The Reflection Gardens, Cannock Wood.
For more information email our environment team
Download the poster.
Wednesday 10th November 2021
Bishop's Staff Residential 10th - 12th
9:30am - 4:30pm
Pre-retirement conference
For Clergy and their spouses who are over the age of 60.
At Shallowford House 9.30am – 4.30pm
This conference provides and opportunity for clergy and their spouses to think plan and pray as retirement approaches.
Topics will include:
Making the transition from full time ministry to ministry in retirement.
Opportunities for continuing ministry
Spiritual wellbeing in retirement.
The practicalities of pensions, retirement housing and financial planning.
The day will be structured around worship and prayer with time to share and discuss with each other.
Booking from June 2021. Cost £10 per participant. All meals included.
For more information and to book places contact:
The Revd Preb Graham Fowell
2, The Millway, Swynnerton, Stone, ST 15 0PN
Phone 01782 796153
email@grahamisobel.plus.com
Saturday 13th November 2021
9:30am
Diocesan Synod
Monday 15th November 2021
7:00pm
Learn British Sign Language
Learn Christian BSL signs at one of our workshops this Autumn. These workshops are a great opportunity for beginners to learn some simple BSL signs. Select whichever date works best for you to sign up for just £10:
The sessions will be online via zoom, and led by the diocese's deaf chaplain, Revd Susan Myatt and colleagues from Rising Brook church in Stafford.
Alternative sessions run on Monday 18 October, Monday 15 Nov and Monday 13 December.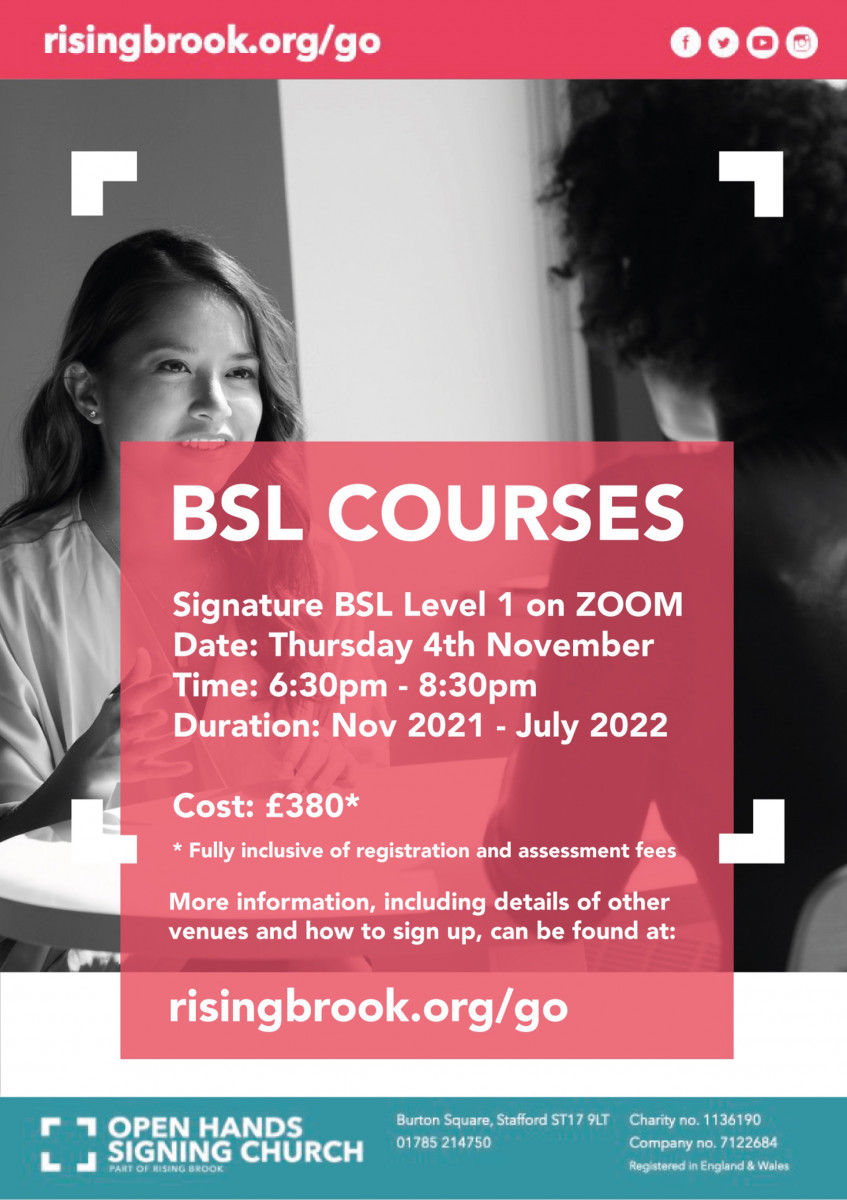 7:30pm - 9:00pm
Wolverhampton Area Mission and Pastoral Committee
7:30pm - 9:00pm
Greenhouse Gathering - WALSALL
Wednesday 17th November 2021
10:00am - 12:00pm
Shrewsbury Area Mission and Pastoral Committee
2:00pm - 4:00pm
Stafford Area Mission and Pastoral Committee
Thursday 18th November 2021
2:00pm - 4:30pm
Glebe Committee
7:00pm - 9:00pm
Modern Slavery Awareness Session
About this event
Together we can make a difference and help bring an END to exploitation during this session I will let you know how, each and EVERY one of us CAN do something.
Modern Slavery is present in every major town and city.
We want to create a communities that are safe for all and where everyone can thrive and flourish.
WHO ARE THESE SESSIONS FOR
Community residents, including churches, faith groups, charities, volunteer groups dealing with the public who ALL play a key role in safeguarding their members and residents.
WHAT WILL THE SESSIONS DO
These sessions will equip, empower and encourage all attendees to know how to recognise and spot the signs of Modern Slavery in their community and how to respond and report suspicions in a way that safeguards them and those exploited by this horrific crime.
WHO LEADS THE SESSIONS
This training will be led by Debbie Huxton. She is a Modern Slavery Campaigner, employed by Transforming Communities Together and funded by Lichfield Diocese Mothers' Union.
Tuesday 23rd November 2021
4:00pm - 5:00pm
Dementia Introduction: Dementia-Frienldy Churches
Do you want to understand more about dementia?
Do you want to embark on becoming a more dementia-friendly church at the heart of a dementia-friendly community?
Are you keen to know more about our dementia-friendly churches network in the Diocese of Lichfield?
If so, this is the session for you!
We'll start by sharing a "Dementia Friends Information Session" , within the national social action movement. This is a great way to increase understanding of dementia and inspire action. And then we'll look together at the Diocese of Lichfield "Dementia-Friendly Churches" Network, which offers support and resources to churches which are taking next steps to become more dementia-friendly churches at the heart of dementia-friendly communities.
For more information, contact Sarah Thorpe, Dementia-Friendly Church Enabler, Diocese of Lichfield on sarah.thorpe@lichfield.anglican.org or 0798 224 8949